Opinion
Idaho – -(AmmoLand.com)- There are some rabid turkey hunters out there, and for a good reason, they're a blast to hunt. I think turkeys get a bum rap. People call other people a turkey as a derogatory name, but in all reality, an old gobbler is wary as any whitetail buck.
So to even the odds in your favor I'm going to list out some gear that just might help you be more successful. In case you're new to turkey hunting it's not as simple as just grabbing your old shotgun, a box of shells and heading to the mountains.
Turkey Calls
First, let's cover calls. Ok, I'm old school and still like the old box calls. I use a Quaker Boy Hurricane call.
A ton of turkey hunters like the slate plates and push-boxes are popular too. A 6 yr.-old kid can master a push box in minutes and be effective. You can also tape them to the forearm of your shotgun and operate them as you are leveling down on your gobbler. So make sure you grab a Quaker Boy Magic Touch Glass and The Slider.
But you also need to learn to use a reed. So you don't get frustrated start out with the Beginner's Double. You'll want to master a reed call because they are hands-free and you can keep calling right up until you pull the trigger.
And then there are locator calls. Most people use a peacock, owl or a hawk call but I have super luck using a coyote call. That almost always instigates a gobble if one is around.
Turkey Sights
I've never used a scope or red dot sights while turkey hunting (I know, I know, I'm Oldddd school) But with the turkey loads that they have now that can reach out to 60+ yards you need one. I just got a Riton Optics RT-R MOD 3 RMD red dot sight.
Ninety-nine percent of new turkey hunters think they just have to aim and shoot. It's a shotgun, right? Wrong! I've never measured one but let's say a turkey stands 3-feet tall and you're using some good turkey loads and a turkey choke. You need to aim at a body part just like if you were deer hunting.
Turkey Decoys
They make some cool realistic turkey decoys. The bad thing is they're expensive and heavy to carry. If you're hunting on some local farm ground where you can drive up to where you hunt, then you can use some of the heavier decoys, but where I hunt, I'm running and gunning in the mountains, so I use Montana Decoys. They're super lightweight and fold up very compact, so you can throw them in your pack and scoot over to your next set-up. I like a lot of the decoys that Montana Decoys offers. Check out their Spring Fling, Jake Purr-FECT, Miss PURR-FECT, and Fanatic.
Turkey Shells & Chokes
I wrote for Bass Pro Shop for 3 ½ yrs. And they had me test nearly all of the turkey loads out there. Hands down HEVI-SHOT is the best. And they have a new offering they call the HEVI-XS Strut that I'm about to test.
BUT, also you must use a tight turkey choke. You'll want a super tight pattern. And it's not like normal bird hunting with your shotgun. You have to aim at a body part. So aim at the neck a few inches below the head. If you aim at the head, then half the BB's go whizzing harmlessly above his head. And you need to invest in a good turkey choke. Check out Tru-lock chokes.
You need to sight in your shotgun just like doing your rifle since it has a tight choke. I use Birchwood Casey Pregame Turkey targets to sight in my shotguns. Like stated above, aim a few inches below the head. That way the main pattern hits from the head down to the heart. Using a Pregame Turkey target, it lets you see how many BB's land in the kill zone.
As you can see, to be successful you need some specific gear. To carry all of this gear you'll need a Scent Blocker's Thunder Chicken Turkey Vest. It has over 15 pockets to carry your calls, a back pouch you can stuff decoys into (and use bungee cords to strap on more), a detachable pad to set on while calling and an orange safety flag you can pull out on the back. I'm not known as Mr. Safety but be careful, I think more turkey hunters get shot than in any other shooting sport.
And lastly, check out the Ameristep Throw Down blind. It's lightweight and compact. Have fun and kill some gobblers!
---
About Tom Claycomb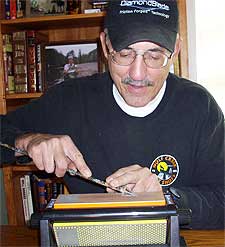 Tom Claycomb has been an avid hunter/fisherman throughout his life as well as an outdoors writer with outdoor columns in the magazine Hunt Alaska, Bass Pro Shops, Bowhunter.net and freelances for numerous magazines and newspapers. "To properly skin your animal you will need a sharp knife. I have an e-article on Amazon Kindle titled Knife Sharpening for $.99 if you're having trouble."
Some of the links on this page are affiliate links, meaning at no additional cost to you, Ammoland will earn a commission if you click through and make a purchase.