U.S.A. –-(Ammoland.com)-I ran into the Novagrade booth during Triggrcon, 2018.  Novagrade's owner, Doug Porter was standing behind a couple spotting scopes from different manufacturers.  I looked around, slightly confused as to which product was his.  He pulled a Novagrade Double Gripper digiscope adapter out from behind his back and asked to borrow my phone.  Within a few seconds, he had dropped my phone into the Double Gripper, attached it to the nearby spotting scope and focused it in.  I was looking at minute details on the ceiling, at the far end of the convention center.  Thus, I was introduced (and hooked) in to digiscope adapters in general and Novagrade in particular.
If you've ever used a phone-to-scope adapter, you'll likely agree with me on two points:
They can be finicky to set up.
They are amazing when they're working right.
Seeing the image presented on a screen rather than through a tiny eyepiece is a huge improvement.  Being able to record the visual feed is a drastic departure from the hunting stories of old.  My brother-in-law bagged a nice mule deer at ~550 yards and captured the whole thing through his spotting scope, so there was no question he had made a good shot.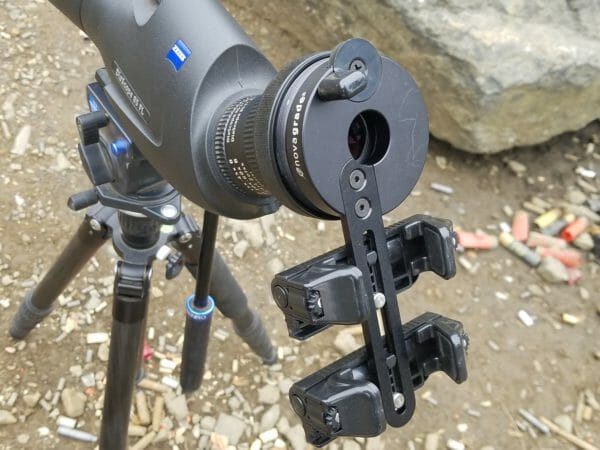 Novagrade's Double Gripper has a pair of spring-loaded, rubber-coated "finger" pairs that cradle your smartphone.  The finger-pairs can be adjusted vertically so they aren't pressing any buttons on the side of your phone.  The assembly is then adjusted horizontally, centering your camera lens within the eyepiece ring.  The eyepiece ring has a series of interchangeable  "compression rings", which allow you to fit the digiscope adapter onto eyepieces ranging from 39-60.75 mm.  These compression rings simply drop in and out in a matter of seconds.  Simply put the assembly onto your optical eyepiece and tighten down the outer ring.  The whole package is well-built, combining precision machined aluminum and plastic for a robust product.  Total weight is around a pound.
The below video was taken using the Novagrade Double Gripper, and shows its effectiveness.
My first (and much delayed) range trip was testing out CMMG's new Endeavor 300 series, an AR platform rifle chambered in 6.5 Creedmoor.  I was borrowing a spotting scope, a nice Zeiss 20-60x.  Setting up the Double Gripper took just a few seconds and has changed my expectations for spotting scopes permanently.  I was able to get instant feedback on hits that I wouldn't have been able to see otherwise.  You can take verbal notes on the video, calling out pulled shots or which different ammo is being grouped at different areas on the same sheet.
A couple of guys were shooting a few "lanes" east of me and having a tough time spotting hits.  A quick zoom out-adjust direction-zoom in, and I was on target calling hits while standing up and drinking coffee instead of laying prone.  Genius!
As far as digiscope adapters go, I'll admit I have limited experience.  I acquired a free one from a competitor as a SHOT show handout, but it broke before I got home.  The Novagrade Double Gripped is well-made, adaptable and effective.  If you're looking for a digiscope adapter, this is unquestionably a good one.  The only question is a matter of price:  $169 for the Double Gripper ($149 for the Single Gripper) is going to be too steep for some, though some will undoubtedly ascribe to the "buy once, cry once" school of thought.  Where do you stand?
---
About Rex Nanorum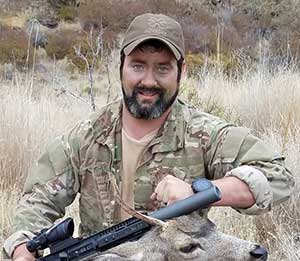 Rex Nanorum is an Alaskan Expatriate living in Oregon with his wife and kids. Growing up on commercial fishing vessels, he found his next adventure with the 2nd Bn, 75th Ranger Regt. After 5 tours to Afghanistan and Iraq, he adventured about the west coast becoming a commercial fisheries and salvage SCUBA diver, rated helicopter pilot instructor (CFII) and personal trainer, before becoming a gear reviewer and writer."