U.S.A. –-(Ammoland.com)- Mission First Tactical (MFT) is an American parts manufacturer, likely best known for their Minimalist AR platform buttstock.  They make a wide variety of other products and new to the market is their Minimalist Inside the Waist Band (IWB) concealed carry holster.  While the Minimalist IWB is offered for nearly every major handgun, my T&E sample is being used with my Gen III Glock 19.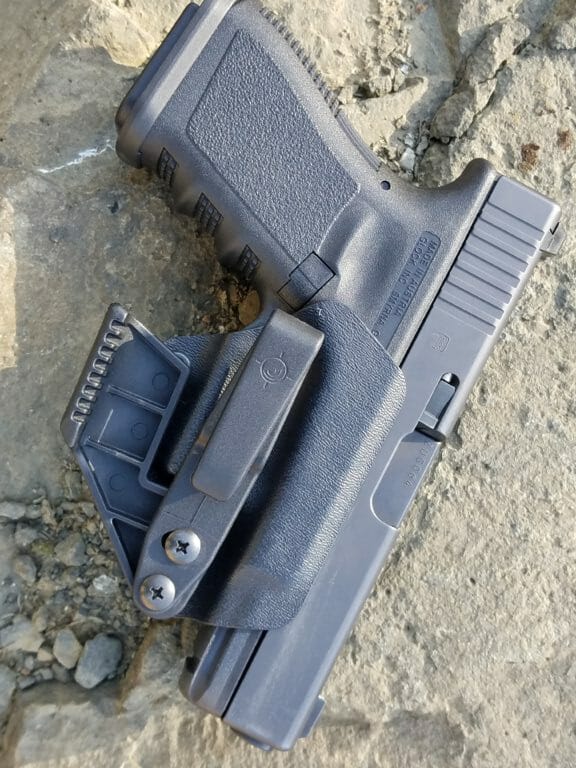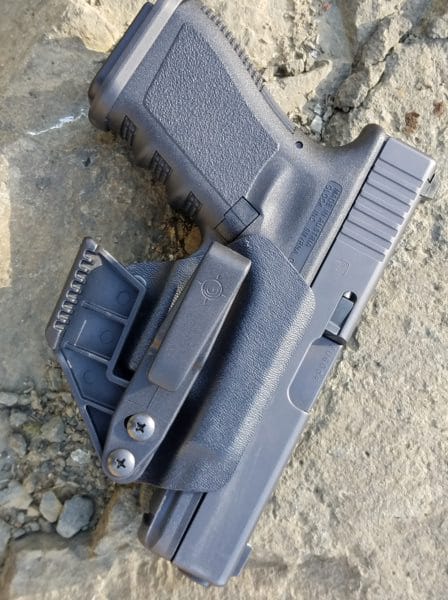 For such a small holster, the Minimalist IWB packs in a good number of features.  Here's the tech specs, as per MFT's website:
Appendix – Inside the Waistband IWB
Ambidextrous – Wearable Right or Left-hand
Includes 1 ½" Belt Clip
Ideal for Concealed Carry
Audible Passive Retention
Superior .08 Boltaron material
Laser CAD Design for Perfect fit, Smoother Draw, Less Wear
Abbreviated Sweat Guard
Quality Screws, Rivets and Attachments
Sculpted for RMR (reflex red dot sights)
Tall Sight Channel – Open Muzzle
Molded, Trimmed, Assembled, Buffed by hand
Custom Patterns & Colors- 2-week delivery
Made in the USA at MFT facilities)
Lifetime Warranty
The "claw" as MFT calls it, is one feature I really like that my last two IWB holsters didn't have.  The Minimalist IWB's claw extends out a small ways to gain leverage, and presses outwards against the inside of your pants waist.  This in turn helps to keep the grip of your gun pressed closer to your side, reducing one of the most common causes of printing: the heel of the grip sticking out.
While the Minimalist IWB isn't my first rodeo with "Appendix" carry (gun tucked just off center in the front of the waistline, leaving the barrel just to the side of the family jewels), I have far more experience with an Outside the Waist Band (OWB) carry.  After some good old dry fire practice to get comfortable with drawing the Minimalist IWB, I hit the range for live fire work.  I won't EDC a holster I don't have a good degree of muscle memory with, so getting enough reps under my belt (pun intended) is a necessity.  Below is a quick video of me getting in my first live fire work with the Minimalist IWB, starting slow and working on picking the speed up.
Carrying the Minimalist IWB is really comfortable.  While the other IWB holsters I've used were a bit too bulky to fit comfortably within my waistband, MFT's fits well.  Having the cant adjustable is a nice bonus, though I found the angle it came set at to be ergonomically apt.  Drawing my gun was achieved with the same amount of friction as you would expect out of any level I holster.  Enough friction to keep the handgun secure, not so much as to impede a quick draw.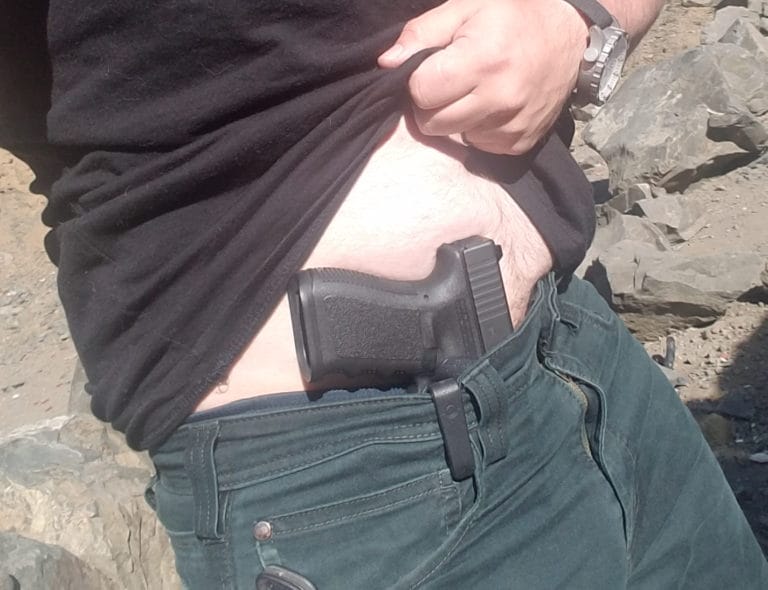 There is safety warning on MFT's website that states "for safety reasons you must remove the minimalist from your belt for reholstering. You can then safely secure back onto the belt".  I'll admit, given that I don't normally appendix carry, this warning was a little off-putting.  During my dry-fire reps, I spent a good bit of time trying to see if I could induce unintentional trigger engagement.  I couldn't.  Given that the barrel is in such proximity to the crotch when holstered, I can see why a cover-your-ass approach is taken here, both on the part of the manufacturer and the part of the CCW enabled citizen.
As you can obviously see in the above video, I felt comfortable enough with the Minimalist IWB to reholster my gun without removing the holster, though the simple belt-hook allows for very fast removal and replacement if you choose.
I like what Mission First Tactical's business approach seems to be.  Good products, made in America and sold at reasonable prices.  The Minimalist IWB holster continues that trend, delivering a simple and effective product that won't break the bank.  This holster runs $34.99 and is well worth a close look if you're in the market.
---
About Rex Nanorum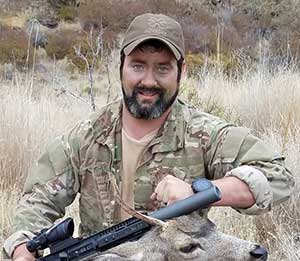 Rex Nanorum is an Alaskan Expatriate living in Oregon with his wife and kids. Growing up on commercial fishing vessels, he found his next adventure with the 2nd Bn, 75th Ranger Regt. After 5 tours to Afghanistan and Iraq, he adventured about the west coast becoming a commercial fisheries and salvage SCUBA diver, rated helicopter pilot instructor (CFII) and personal trainer, before becoming a gear reviewer and writer."