Opinion
USA – A new group has appeared, dedicated to reforming the National Rifle Association. The group, a 501(c)(4), goes by the title "Save the Second." According to their website, they want the NRA to be more effective, focused, accountable, and responsive to its membership. They have a platform of 5 goals which they say will go a long way toward returning the NRA to its true mission of firearm safety and training, support for the shooting sports, and Second Amendment advocacy:
1. A smaller, more responsive board of directors. The NRA board is currently composed of 76 directors. This is far more directors than is typical for a non-profit like the NRA, and dilutes responsibility and accountability. Save the Second wants to reduce the board down to a total of 31 directors, with 10 elected to a 3-year term each year, and one elected to a 1-year term.
2. Limit directors to no more than 4 consecutive, 3-year terms. This is intended to ensure more opportunities for new energy and ideas to be brought to the board by preventing long-term entrenchment of directors. There are currently some directors who have been members of the board for almost 40 years, several who have served for over 30 years, and a majority of those remaining have been on the board for close to 20 years or more. Former directors would be eligible to run again after sitting out an election.
3. Mandatory meeting attendance policy for directors. Directors have a moral and legal obligation to engage in the business of directing the organization. The office of director is not meant to be an honorary position for politicians and celebrities, nor is it meant to be an opportunity for senior members of the organization to retire in place. If a director is unwilling or unable to attend board meetings, that director should step aside and allow the seat to be filled by someone ready to actively engage in the business of directing the organization. If they will not do so voluntarily, a mechanism should be in place to force that result.
4. Greater member engagement. In the 2019 board of directors election, nearly 2.5 million NRA members were eligible to vote, but according to the official tally, less than 150,000 ballots were submitted. This is in line with historical data showing that only about 6% to 7% of eligible members vote in any given election. This is pretty disappointing for a group that prides itself on its ability to activate voters in public elections, and is directly attributable to members feeling that they don't have enough information about the candidates to make informed choices. Save the Second proposes to actively engage in member education campaigns, while simultaneously lobbying the NRA to do more to encourage member participation in the process.
5. Return the NRA's focus to its core mission. The NRA was established for the purpose of training Americans in the safe and accurate use of firearms. The freedom of Americans to own and shoot firearms was always a part of that mission. As gun control became a political issue and a threat to the NRA's training and competition objectives, it became clear that protecting the right to arms had to take a more prominent place in the group's activities, so this was formally adopted as a prime directive for the organization. In recent years, the NRA has strayed from these core missions, engaging in more partisan political activity, and getting involved in social and political issues that have nothing to do with the right to arms. This has offended many potential allies and contributed to polarization of the debate and a weakening of the NRA's overall position.
These are all reasonable objectives and definitely worth pursuing, but they are all totally dependent upon the success of proposition 4, Greater member engagement. Without the support and participation of the membership, nothing of substance is possible. Perhaps member engagement in lobbying current directors might help to move the needle toward some of the other goals, but real change is unlikely unless the membership takes steps to dramatically change the make-up of the board. That will require a lot more members to get involved and vote, and that's a very tall order, because the vast majority of NRA members get virtually all of their information about NRA elections from the official NRA magazines, which are controlled by the NRA establishment.
For many years, another group was actively working for reform within the NRA. That group initially called themselves the "Federation for NRA," but the name was later shortened to just "The Federation," after the NRA used members' money to successfully sue them for using the letters "NRA" in their name. The Federation's primary focus was electing loyal opposition candidates to the NRA board. Their activities mainly focused on direct mail education and fundraising, and placing paid advertisements in NRA publications.
The Federation eventually fell victim to their own success. In 1991, Federation candidates won enough seats on the board to begin influencing the organization from the inside, so their outside activities were curtailed. By 1996, a small majority of the board was in the Federation camp, and their titular leader, Neal Knox, was in line to become the board president in another year.
But Knox and his supporters tried to do too much too soon, attempting to force the ouster of NRA's long-time PR company, Ackerman McQueen, leading to a showdown between Knox and his supporters, and NRA Executive Vice President Wayne LaPierre and a coterie of paid staff, vendors who stood to lose big no-bid contracts, and old guard board members – including then-President Marion Hammer.
LaPierre and his allies brought all of the NRA's resources to bear to defeat Knox and his allies on the board. An effort was launched to revive The Federation, but there was little time and no money.
LaPierre and his allies used their control of the magazines, along with funding from anonymous sources, to run campaign advertisements and deliver selective information to the membership. In his previous election, Knox had come in at number 4, behind General Joe Foss, Colonel Jeff Cooper, and Colonel Bob Brown, but the efforts of LaPierre and his allies in '97 were so successful that Knox came in at number 23, and almost all of his allies who were up for election that year, were defeated.
The Federation never made a serious comeback, and the campaign against them continued. Three years later, when Knox was up for election again, he failed to make the cut and the purge of all opponents of LaPierre and Ack-Mac was complete.
The NRA belongs to its members, so it is up to the members to take it back from special interests and over-puffed egos.
Readers are urged to visit the Save the Second website to learn more and possibly get involved.
www.savethe2a.org
---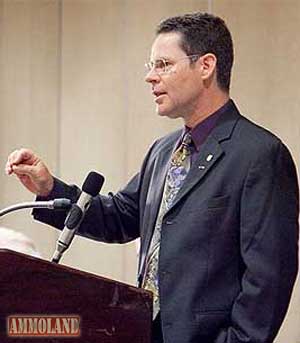 About Jeff Knox:
Jeff Knox is a second-generation political activist and director of The Firearms Coalition. His father Neal Knox led many of the early gun rights battles for your right to keep and bear arms. Read Neal Knox – The Gun Rights War.
The Firearms Coalition is a loose-knit coalition of individual Second Amendment activists, clubs and civil rights organizations. Founded by Neal Knox in 1984, the organization provides support to grassroots activists in the form of education, analysis of current issues, and with a historical perspective of the gun rights movement. The Firearms Coalition has offices in Buckeye, Arizona and Manassas, VA. Visit: www.FirearmsCoalition.org.