U.S.A. –-(Ammoland.com)- A while back I did a Product Review on the Smith's Consumer Products new Trailbreaker folder. But recently I was helping with the Hi-Plains Rodeo Bible Camp in Hugo, Colorado and Smith's donated a Trail Breaker With Fire Starter Combo set to be donated to one of the event winners.
This year I was helping with the Bull Dogger group. What made it really special this year is that 17-yr. old Hannah Mitchell won the Bull Dogging Buckle. Since all cowgirls carry/use a knife I thought it'd be fitting to also award her with the Trailbreaker With Firestarter Combo. Plus, during breaks as we were sitting around shooting the bull to let everyone catch their breath, we got talking about hunting. Turns up that not only is she a good cowgirl, she also had pics of some nice mule deer bucks she'd shot. She definitely needed a new hunting knife and diamond stone.
While testing the Trailbreaker for the Product Review of course I was carrying the knife to test it out.
I must have liked it because I am still carrying it a month later so I thought it'd be a good EDC and hunting knife her. I also like the combo because it also has a 4-inch reversible combo diamond stone set with it. For the price, I think that it is a great deal.
As you know if you've read any of my Knife Sharpening articles or attended any of my Knife Sharpening seminars, I love Smith's fine diamond stones. Their 4-inch combo set is unique in that it has both the fine and coarse diamond stones and can be pulled out and stuck in the handle to make it even more compact. It is a great deal at $19.99. In this combo, though you get the Combo 4-inch stone (MSRP $24.99) and a diamond-coated rod sharpener, fire starter, whistle and Trailbreaker knife for only $39.99. That is a great deal.
I don't want to fawn all over them but Smith's is probably the most innovative company that I deal with, and I deal with a lot of companies. They just keep coming out with more and more items.
But moving along. If you're in the market for an EDC, a hunting knife or a somewhat of survival set this would be an economical deal for you. I use the fine diamond but if you've abused your edge and need to grind out dings and chips or refurbish a mushroomed edge then start with the coarse stone. Smith's color codes their stones. Yellow signifies that it is a coarse stone with 750 grit and orange signifies a fine stone at 750 grit.
I won't go in deep detail about the Trailbreaker knife since I just did a Product Review on it a while back but after testing it further for a month, I like it even more. It is a good EDC to use on all of my daily tasks. Such as stabbing jobs, slicing, cutting and I even used it yesterday to clean our pigeons after an airgun pigeon hunt. In fact, the breasts are marinating as we type and I'm about to throw them on the smoker in just a few minutes as poppers.
SUMMARY:
I very seldom give such a glowing review but again, for the money I think you get a lot of bang for the buck at an MSRP of only $39.99. And as usual, we will end on the specs.
But before we get into the specs, I had to throw a unique twist in at the end of this Product Review. A few weeks after winning the Bulldogging buckle, Hannah won another title as the Arkansas Valley Fair Queen. Congratulations Hannah.
Custom Handle w/over mold
3.5" 420 Stainless blade
8" overall length when open
Liner lock
Ambidextrous thumb studs
Reversible pocket clip
Lanyard hole
Sharpener
2-Sided Diamond
Fishhook sharpener
Diamond coated sharpening Rod
Firestarter
Safety Whistle
---
About Tom Claycomb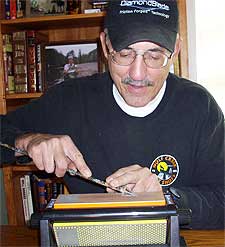 Tom Claycomb has been an avid hunter/fisherman throughout his life as well as an outdoors writer with outdoor columns in the magazine Hunt Alaska, Bass Pro Shops, Bowhunter.net and freelances for numerous magazines and newspapers. "To properly skin your animal you will need a sharp knife. I have an e-article on Amazon Kindle titled Knife Sharpening for $.99 if you're having trouble."
Disclosure: Some of the links below are affiliate links, meaning at no additional cost to you, Ammoland will earn a commission if you click through and make a purchase.