U.S.A. –-(Ammoland.com)- Around two years ago, while I was working as a reviewer for another website, Jimmy Labita from Atibal called me up and asked me to take a look at his new 3x32mm prismatic optic.  This new sighting device was dubbed the Modern Rifle Optic Component, or MROC.  Now as I'm working towards my "ACOG Killers?" article (where 5, more budget friendly prismatic scopes compete to take down the King), I'm taking an abbreviated look at each of the 5 challengers to the crown.  First up, the Atibal MROC.
Tech Specs:
3x Magnification
2.8″ Eye relief
FOV 37.7′ @ 100 yards, a 7.2° angle.
Fully multi-coated lenses
1/2 MOA adjustments
60 MOA maximum vertical and horizontal adjustment
14.4-ounce weight
5.11″ length
Reticle illuminated in red, 6 brightness settings
Powered by 1xCR2 battery
Removable picatinny rail on top for accessory mounting (I removed mine)
Built-in rail mount
Fog/Water/Shockproof
Lifetime warranty
Heads up, this unit was a factory blemish.  I knew it going in, so there's a reason I won't be dinging the partially illuminated chevron.  Quality control pulled this unit off the line, so I agreed to take it in as a review unit. There's a lot I like about the MROC and a couple of things I don't.
The Pros:
The details are covered.  Wire retained turret caps, finger-adjustable turrets, tool-less mounting to your gun.
"Off" positions in-between each of the six brightness settings.
A good (though not great) reticle.  Even if you aren't using the ammo that the reticle's bullet drop compensation is set for, it's still easy enough to figure your holdover.  Uncluttered is nice.
The MROC is pretty light.  14.4 ounces (or 14.1 as mine is without the small picatinny rail on top) is definitely on the lighter end of prismatic scopes between 3-5x magnification.
The MROC has surprisingly good glass for the price.
Speaking of glass, the MROC has great eye relief at 2.8″.  It's not too finicky either, as some prismatic scopes can get.  I've never found myself moving my head around to seek the sweet spot.
The field of view is really, really wide.  One of the MROC's Primary competitors comes in at 6′ less, or ~17% narrower.
The Negatives:
The reticle, while effective enough, is too fine for me.  It requires the illumination to be picked up quickly, leaving me with a half-second's pause as I home in on it.  It's no fatal flaw, just something I'd like to see beefed up slightly.
Speaking of the reticle, both the manual and the website say that the BDC is calibrated for "5.56mm ammunition".  I'd really like to know which 5.56mm ammunition, and at what velocity.  There's a big difference between the trajectory of 55gr and 77gr bullets, especially when various barrel lengths are thrown into the mix.
Pet peeve, if you list your product as "waterproof", please let us know to which standard.  IPx6?  IPx9?  Rated to endure sub-oceanic battles with the Leviathan?  As shooters browse options, more info is always better.
Short battery life.  I don't know exactly how long, it's not covered in the manual or the website, some have calculated around 250 hours.
As stated at the outset, I've had this optic for approximately two good years.  I've used it for testing a number of rifles, a number of different factory ammo loads and for recreational shooting when there's time left in the week.  The MROC is beefy, with durability never a concern.  This scope tracks, holds and eats up your abuse.  While the fine reticle and short battery life aren't to my liking, there's plenty of scope here for most.  I do feel like the MROC would benefit greatly from a Gen II version, perhaps with a CR123 battery, updated LED emitter a new reticle, perhaps milliradian based.  MSRP on the Atibal MROC is $379.99, street price is around $323.
Check back to see how the MROC stacks up against the Primary Arms 3x w/ACSS reticle, Burris TMPR, Vortex Spitfire 3x and the Sig Bravo 3 as they try to vie for market share against the Trijicon ACOG.
---
About Rex Nanorum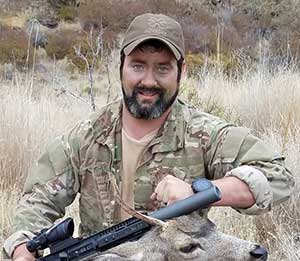 Rex Nanorum is an Alaskan Expatriate living in Oregon with his wife and kids. Growing up on commercial fishing vessels, he found his next adventure with the 2nd Bn, 75th Ranger Regt. After 5 tours to Afghanistan and Iraq, he adventured about the west coast becoming a commercial fisheries and salvage SCUBA diver, rated helicopter pilot instructor (CFII) and personal trainer, before becoming a gear reviewer and writer."