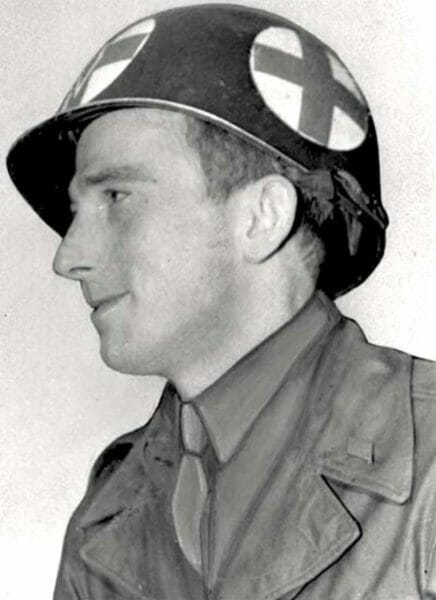 USA – -(AmmoLand.com)- As a combat medic in World War II, Army Technician 5th Grade Harold A. Garman dove into the Seine River in France to pull a boat of wounded soldiers to safety amid enemy machine-gun fire.
Garman joined the Army in Albion, Illinois, in 1942. By Aug. 25, 1944, he was a private serving as a medic in Company B, 5th Medical Battalion, 5th Infantry Division in Montereau, France. For his actions that day, he received the Medal of Honor on March 29, 1945.
According to Garman's Medal of Honor citation, the enemy opened fire with a machine gun on a boatload of wounded soldiers just as the boat reached the middle of the Seine. The men in the boat jumped into the water — except for one, who was too badly wounded.
Two of those in the water couldn't swim because of their wounds, so they clung to the sides of the boat. When Garman saw the wounded soldiers were in extreme danger, he jumped into the river and towed the boat to safety as the Germans continued to fire.
"This soldier's heroism not only saved the lives of the three patients, but so inspired his comrades that additional boats were immediately procured and the evacuation of the wounded resumed," the citation continued.
Garman died at age 74 on Aug, 13, 1992, and is buried in Albion.
Did You Know?
Combat medics were the first to answer the call for aid during the war. Their main objective was to help the wounded as quickly as possible and move the wounded away from the front lines. Medics would often come under fire as they evaluated the patient, applied a tourniquet, administered morphine for pain, and cleaned wounds. When that happened, the medics would drag the patient to safety.
It's estimated that 830,000 medic cards were distributed to personnel throughout World War II. Physicians, dentists, nurses and combat medics, such as Garman, cared for about 14 million patients during that time.
This article is part of a weekly series called "Medal of Honor Monday," in which we highlight one of the more than 3,500 Medal of Honor recipients who have earned the U.S. military's highest medal for valor.
---
U.S. Department of Defense
The Department of Defense provides the military forces needed to deter war and ensure our nation's security. The foundational strength of the Department of Defense is the men and women who volunteer to serve our country and protect our freedoms. Visit www.defense.gov/ to learn more.