The Clarys review the Meopta Optika HD 8×42 Binoculars.
USA – -(AmmoLand.com)- A little over three-quarters of a century ago, Optikotechna (now Meopta) was founded in Czechoslovakia. They specialized in producing high-quality optical lenses and quickly expanded into producing high-quality binoculars, cameras, and projectors. After the fall of the Soviet Union, they were free to develop and market their products without political domination. In the following years, they expanded into riflescopes, binoculars, and other high-end optical devices.
In 1992, the Rausnitz brothers, who had immigrated to the United States in 1946, successfully purchased the company. With a considerable investment in facilities and R&D, Meopta rapidly grew to become a major supplier of optics to many European companies. In 2005, their U.S. company, Meopta, U.S.A. distributing sports optics to the United States, and the rest is history.
In the following years, Meopta produced their high-end optics for several major European and American brands. Then, in 2013, they launched Meopta-branded scopes and binoculars in the US. With very competitive price points and quality that matched the most exceptional European optics, their line of optics immediately became successful.
In 2019, perhaps in honor of their founding roots, Meopta USA Sport Optics introduced the Optika line of riflescopes and binoculars. These items were priced to compete with the myriad of mid-level scopes/binoculars in the USA while possessing the quality characteristics of high-end units. We have no idea how they did that, as the Optika line does not cut corners. The quality is easily comparable to units costing two to three times more. Again, it seemed unbelievable, but it is true. As such, the following is a thorough review of the characteristics and specifications of the new Optika HD 8×42 binoculars.
Optika binoculars utilize high-definition (HD), extra-low dispersion (ED) fluoride objective lenses which eliminates chromatic aberration and color fringing in low light conditions or during adverse weather. An ion-assisted lens multi-coating, proprietary to Meopta, is applied to all air-to-glass optical surfaces. The ion-assisted multi-coatings eliminate glare and reflections and deliver the highest light transmission per lens surface in the industry. And, if that weren't enough, the external lenses are treated with another Meopta proprietary abrasion-resistant coating that meets military specifications for durability and surface hardness. Taken together, the quality of glass and multi-coated lenses make these binoculars among the best on the market…….anywhere!
And, if the above wasn't enough, the exterior coatings are also hydrophobic, repelling rain, dust and even grease.
The twist-up eyecups are metal, not plastic like so many other binoculars. They are covered with soft rubber for comfort, all of which reduces the risk of breakage in the field. And, they are removable for cleaning out any dirt or debris that might get picked up in the field.
The Optika features a magnesium-alloy chassis coated with a shock-proof "rubberized" armor finish which not only protects the binoculars externally but also the internal components. This feature is usually found on binoculars costing a lot more.
To complete the design of this new optic, Meopta installed oversize focus and diopter controls. The focus wheel permits exact and accurate focus acquisition without backlash. And the right-side diopter ring control is metal (like the eyecups) covered with soft rubber for comfort.
To complete the entire unit's construction, it is nitrogen-purged to guarantee that it is fog-proof.
The overall specifications of the Meopta Optika HD 8×42 binocular are:
Magnification: 8x
Objective Lens (mm): 42 mm.
Field of View @ 1000 yards: 393 ft.
Eye Relief: 17 mm.
Interpupillary Distance (metric): 56 – 74 mm.
Interpupillary Distance (standard): 2.2 – 2.9 in.
Close Focusing Distance: 8.2 ft.
Exit Pupil Diameter: 5.2 mm.
Twilight Factor: 18.3
Dioptric Correction: + / – 4
Diopter System: Right Diopter Ring
Height: 5.43 in.
Width: 5.0 in.
Depth: 2.17 in.
Weight: 22.9 oz.
Lens/Prism Coatings: Phase – correction
Fully Multi-coated
Nitrogen Purged: Yes
Fog Proof & Shockproof: Yes
Country of Origin: Czech Republic
2019 MSRP: $339.95*
The Optika binoculars are also available in a Meopta Optika HD 8×42 Binocular model with an MSRP of $349.95. They will make excellent Christmas presents for any shooter/hunter. And, they also include a hard-carrying case for travel or storage, not a soft bag.
In case you would like to compare the two models side by side, the following table will be of value:
---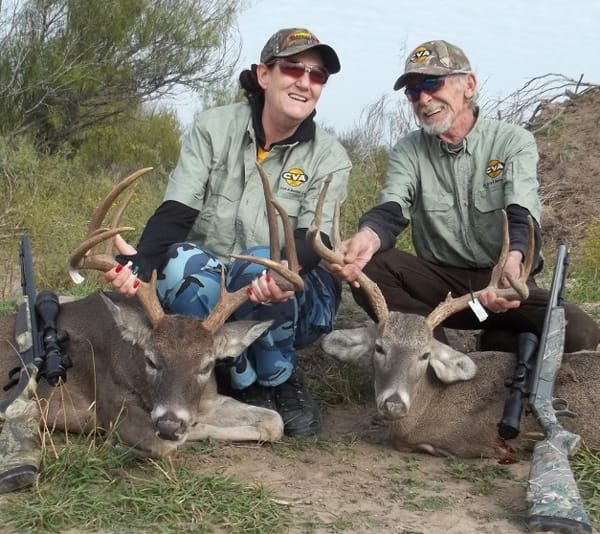 About Jim and Mary Clary:
Jim and Mary Clary have co-authored over six hundred published articles (and counting) on shooting and hunting. You can read many of them on AmmoLand News.