U.S.A. –-(Ammoland.com)- Swagger Bipods will be in Las Vegas at the 2020 SHOT Show from January 21-24 at booth #717 to showcase a host of innovative products, including the highly versatile Steelbanger bipod.
As every serious long-range shooter knows, a successful competition requires a rifle platform that delivers impressive accuracy and allows for rapid target acquisition. Unfortunately, many standard bipods on the market are rigid and difficult to reposition, increasing the time between shots at different targets. Swagger's Steelbanger bipod is the perfect solution for serious shooters looking to increase their competitive edge.
Built around Flex Ready Technology, the Steelbanger bipod features spring bases in each leg that allow for maximum range of motion, pivoting, and rapid tracking of moving or stationary targets. With an adjustable range of 4-10″, the bipod utilizes fast deployment and one-hand adjustments. At just 15 oz., the Steelbanger bipod is extremely lightweight to carry all day and mounts directly to a Picatinny rail.
The height of the bipod makes it ideal for shooting from the prone position or at a bench. Unlike a traditional bipod, the Steelbanger is capable of rapidly adjusting to even the most serious terrain. Whether you're shooting up or downhill, or the conditions vary from loose sand to rocky mountainsides, the Steelbanger bipod is capable of conquering it all.
Those same features make the Steelbanger equally well-suited for hunters looking to extend their range from a long-distance rifle platform. The bipod is light enough to carry on the longest spot and stalks, while a low profile doesn't interfere with the pursuit of game. The bipod also features turn-knobs for quiet adjustment in the moment of truth.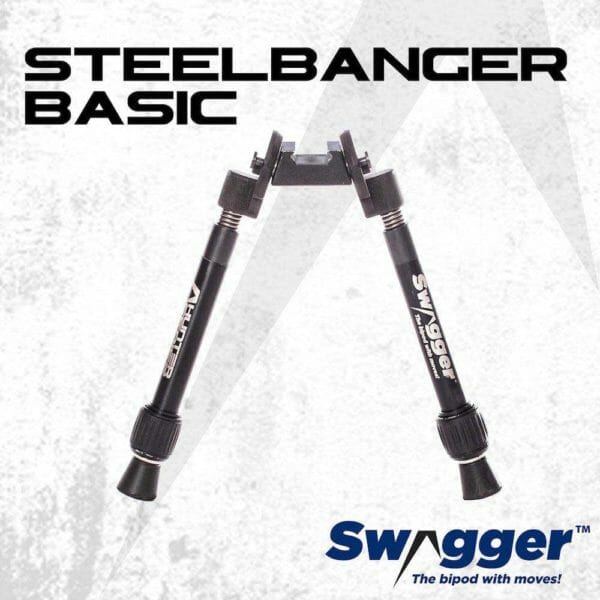 Steelbanger Bipod
Fast deployment and one-hand adjustments
Weight: 15 oz.
Range: 4-10″
Mounts to Picatinny rail
Extremely lightweight and ruggedly durable
Flex Ready Technology
Ideal for shooting from a bench or in the prone position
Fast target acquisition
---
About Swagger
Made in the USA and equipped with numerous unique high-performance features, we at Swagger are confident that our bipods will do for you what no bipod has ever done before. We back claim that with our Limited Lifetime Guarantee.
Swagger bipods are also covered by our Shoot With Confidence Guarantee. If your Swagger bipod does not give you more shooting flexibility and more shooting confidence, send the product back to us within 30 days of purchase, with proof of purchase from an authorized dealer, and we will buy it back. For more information, please visit WWW.SWAGGERBIPODS.COM