U.S.A. –-(Ammoland.com)- I'm a huge fan of Dead Air and the original Nomad suppressor. In fact, for most new suppressor owners, the Nomad is the can I recommend. It's made of stainless steel, making it lighter than stellite or inconel, but much stronger than titanium. It also has standard 1 3/8 x 24 threads in the rear, allowing it to be extremely versatile; accepting a wide variety of adapters and muzzle devices. It is just an all-around great suppressor for most applications and users. I'm also always about bigger, quieter, suppressors. So, when I heard about the Nomad L, the new larger version of the original Nomad, I was as excited as shoppers in Wall-Mart when they bring out a pallet of toilet paper. 
The Nomad L is 8.39 inches long, compared to the 6.5 inches in the original. The Nomad L will  weigh in at 18.3 ounces, compared to the 14 ounces of the Nomad. It also has a wider than industry standard diameter of 1.735 inches; which I really like because that greatly increases internal volume, making the can quieter, while at the same time lowering the back pressure. It is rated for anything from 5.56 all the way up to 300 ultra mag with no barrel restrictions. I will say, that if you're a big 5.56 shooter, and do a lot of really hard, fast,  shooting with 5.56, keep in mind that Dead Air has an extreme hard use line of suppressors; their Sandman series. 
I love the Nomad L because it perfectly walks that line of a suppressor that is big enough to give you really quiet, enjoyable, shooting; yet isn't so big that you wouldn't run it on an AR-15, or any other gun you'd want to move around with a little. The Nomad is more than tough enough for the vast majority of shooters, and in fact, I would personally recommend the Nomad series of suppressors to most shooters over the Sandman series. The Nomad series, comparatively, is quieter and lighter than the comparable Sandman. But, if you have the need, there's nothing tougher than the Sandman. 
We ran the Nomad L on a ton of different platforms and calibers and it performed extremely well across the board. Some things that I found interesting: it sounds good on everything from subsonic like 300 Blackout, but also sounded phenomenal on supersonic rounds as well. In fact, everyone who shot it said that it sounded better on 5.56 than anything we could remember. Now it's a little bigger than most 5.56 cans, but it does sound amazing. 
Let's talk about versatility and mounting options. The rear of the Nomad is threaded in what has become pretty much an industry standard 1 3/8 x 24. What that means is, it will accept adapters allowing it to accept most major industry mounts; Like the Q plan B, SilencerCo ASR, Griffin Plan A, and the Dead Air KeyMo, along with many others. This thread pattern also allows the use of direct thread inserts, and the Nomad ships with a 5/8 x 24 direct thread adapter in the box. This enables you to immediately attach this to your 308 rifles, 300 Blackout rifles, or anything else threaded in 5/8 x 24 pattern right out of the box. 
The front cap of the Nomad-L is also interchangeable with an assortment of different bore apertures, flash hiders, and of course the Dead Air E-brake. Giving you even more options and versatility, allowing you to control how you want the bullet to exit the suppressor, and what effect you'd like to gain.
The Nomad or the Nomad L would make a great first suppressor, or a great addition to someone who has a collection of cans. It offers tons of versatility in mounting options and end cap accessories. The build quality is more than strong enough to handle what the majority of shooters need, without being so heavy that it feels like you have a bowling ball on the end of your rifle. I'm a huge fan of the Nomad L because it perfectly walks that line of a suppressor that is big enough to give you really quiet, really enjoyable shooting; yet isn't so big or unwieldy that it is more or less limited to just bench rest rifles. It's big enough to give you the sound you want without being so large that you would feel odd running it on an AR-15.
---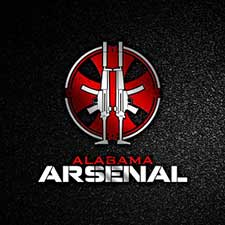 About Alabama Arsenal
We conduct in-depth, unbiased reviews on firearms and accessories. We are made up of all different backgrounds to give you the best range of opinions, including military experience and gunsmith work. Be sure to check out our Facebook and Instagram.
Unlike many channels out there, we make it a priority to respond to your comments. We enjoy engaging with our followers, and will gladly answer any reasonable questions you may have.