U.S.A. –-(Ammoland.com)- I recently received a SOG Trident AT knife to test. Katy and I were going up to the mountains mushroom hunting the next day so I thought I'd have Katy carry it and test it out for me. Upon opening the SOG Trident AT I was impressed right away with its stout feeling. It has a lot of cool features. If you're in the market for a tactical folder, then you need to check it out.
Let's go over the cool features. The handle has a slot cut it in that exposes about 1/4 in. of the blade to be utilized as a line or parachute sized cord cutter. It has a reversible pocket clip and a metal slot to attach a lanyard and can dually be used to break out a window. Although there is an actual glass breaking point on the other end specifically designed to break glass.
The bade has a unique design. The spine slopes down almost in a clip point design but it has a tanto design. I usually don't favor the Tanto designed blades but I think that I actually like this one. Mine came from the factory super sharp. As stated above, we used it on a mushroom hunt. Halfway through the day we stopped and built a fire so we could heat up a can of Wolf Brand Chili and make some Frito Pies.
For the sake of the article, I felt like I ought to whack off the top of the chili can but I didn't want to dull the knife so I didn't. As stout as the blade is, I have no doubt that it would have worked fine opening the can though. And it is definitely stout enough to use for cutting kindling to build a fire.
Now to get into some features which I really like. On the back of the handle is an ambidextrous spine-mounted safety. If the red dot is showing, it is ready for action. To lock the blade for when carrying it push the switch down. I have to admit, with a lot of the super-slick spring assisted opening folders nowadays, I'm half scared to carry them. I'm afraid they will flip open in my pocket. In fact, I had one do this. This could cut you in multiple ways. If you reach in your pocket to retrieve your knife it could cut your hand or it could cut into your leg. None of the options are good so I love the SOG locking feature.
I am thumb stud challenged but the SOG Trident AT jumps open and is ready for action in a hot second. It is easy to deploy. To close the blade, it has a slide (ambidextrous) red switch on each side of the handle. Slide the lock back and it will close.
I feel like I have a firm grip on the SOG Trident AT due to multiple features. There are thumb grooves on the top of the spine and both sides of the top of the handle. It also has a definite finger groove and a groove to hold in your little finger as well. The handle also has an Omnidirectional GRN grip texture which is aggressive enough so your hand doesn't slip at all.
The MSRP on the SOG Trident AT is $94.95 and as is usual, we will close with the specs.
OVERALL LENGTH – 8.5″
CLOSED LENGTH – 4.75″
PRODUCT WEIGHT – 3.60 oz
BLADE LENGTH – 3.75″
BLADE THICKNESS – 0.13″
PRODUCT FAMILY – Trident
PRODUCT TYPE – Folding Knife
LOCKING MECHANISM – Piston Lock
OPENING MECHANISM – Assisted
BELT CLIP TYPE – Reversible Low-Carry
PACKAGING – Unibox – Display Ready
FINISH – Hardcased Black TiNi
EDGE TYPE – Straight
BLADE STEEL TYPE – AUS-8
BLADE SHAPE – Tanto
HARDNESS – Rc. 57-58
HANDLE MATERIAL – Glass-Reinforced Nylon
HANDLE COLOR – Black
---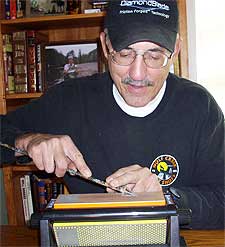 About Tom Claycomb
Tom Claycomb has been an avid hunter/fisherman throughout his life as well as an outdoor writer with outdoor columns in the magazine Hunt Alaska, Bass Pro Shops, Bowhunter.net, and freelances for numerous magazines and newspapers. "To properly skin your animal, you will need a sharp knife. I have an e-article on Amazon Kindle titled Knife Sharpening #ad for $.99 if you're having trouble."
Some of the links on this page are affiliate links, meaning at no additional cost to you, Ammoland will earn a commission if you click through and make a purchase.