Has Magpul really been secretly working to improve the legendary H&K MP5 Machine Pistol since the 1980s? Find out! Spoiler Alert! Magpul MP5 Firearm Accessories!

Somewhere USA – -(AmmoLand.com)- Improving an Icon. After more than 40 years in service with militaries, police agencies, and security forces all over the world, the Heckler & Koch Maschinenpistole 5, universally known as the MP5®, is one of the most successful firearms of all time.
In recent years, semi-auto pistol, HK94 carbine, and even SBR variants have become popular in the U.S. Despite its ruggedness and the solidity of its German engineering, the MP5's ergonomics could be improved. And that's exactly what Magpul did with their new line of MP5 upgrade components.
Magpul's components are all easy-to-install drop-on replacements.
Gives H&K's classic firearms 21st-century upgrades WITHOUT altering the iconic profile.
It makes the MP5 easier and more comfortable to shoot.
Magpul MP5 Firearm Accessories
The SL Hand Guard is offered in two models, for the original MP5/HK94 and the compact MP5K/SP89 platform. Made of Magpul's extremely tough reinforced molded polymer, it provides the user with a more comfortable hold, with non-slip texturing and M-LOK® mounting slots for accessories. A large forward handstop, similar to the H&K "K" style handguard, keeps the hand properly positioned for excellent control.
---
The Magpul MP5 Firearm Accessories ESK (Enhanced Selector Kit) gives the operator easier access to the selector while allowing the user a variety of lever configurations. It can be operated quickly with the firing hand and can be set up for ambidextrous use. Fits both H&K factory polymer trigger housings and Magpul's SL Grip Module.
---
The SL Grip Module offers a grip angle optimized for better control, Magpul's anti-slip TSP texturing, and improved access to the fire controls – plus H&K "Navy-style" pictographs that give an ultra-clear indication of the selector position. Accepts MIAD®/MOE® Grip Cores; Lube Bottle Core included. Fits MP5, HK94/93/91, and semi-shelf H&K clones.
---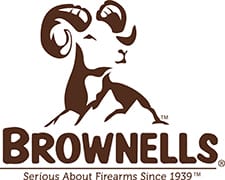 About Brownells
Serious About Firearms Since 1939, Brownells is the world's leading source for guns, gun parts and accessories, ammunition, gunsmithing tools, and survival gear. With a large selection of both common and hard-to-find items, and an extensive collection of videos, articles, and gun schematics, Brownells is the expert for everything shooting-related. Committed to maintaining our great traditions, Brownells has more, does more, and knows more – and guarantees it all, Forever. For more information or to place an order, call 800-741-0015 or visit Brownells.com.
Some of the links on this page are affiliate links, meaning at no additional cost to you, Ammoland will earn a commission if you click through and make a purchase.