U.S.A. –-(AmmoLand.com)- If you're a serrated man, then you need to check out the Spyderco Pacific Salt 2 folder. All but the first ½-inch of the blade is serrated. I don't think that I own any folder that has a totally serrated blade so I don't know what possessed me to grab the Spyderco Pacific Salt 2 folder. But after testing it out, I'm glad that I did.
To do an initial test I took it to Oregon on a fishing trip. I was going to be fishing in my 12' Jon boat named the Black Pearl, but friends of lower intellect have renamed it with derogatory names such as "The Edmond Fitz Terror, "Carp 1" or "The Coffin". But we all know that there are a lot of haters out there nowadays. But there an element of truth in what they say about the Black Pearl. It is possible to encounter a panic situation where the rope to the anchor needs to be cut off right fast or if it swamps that you could blow into the willows and have too cut loose a life jacket. So I thought the Spyderco Pacific Salt 2 might just be the ticket.
What I didn't realize was that it was up for more tasks than just cutting your way out of a panic situation on the Black Pearl. As with all of the Spyderco knives that I have tested, it came from the factory razor sharp so it also cut fishing line and other normal tasks that you must perform while out fishing. It would also work great to cut bait.
The next test that it had to pass. Would it suffice for such menial tasks as cutting open the package on jigs, slicing bananas to make a PB banana sandwich and such? Yes it did. Maybe I'm old school but I figured a plain edge knife would work better for those tasks but the Spyderco Pacific Salt 2 performed fine. So yes, you only need to carry one knife if carrying this one.
What are some of the features that I like about the Spyderco Pacific Salt 2 folder? Let's start with the obvious. The signature large thumb hole works fine as an aid in one-handed opening of the blade. It has a back lock that works great.
I also like how the blade is about 5/8's-inch above the handle. This allows you to push your thumb into the back of the blade while working. Along with the thumb grooves you have a firm grip on the knife. The handle has one definite and two lower profile finger grooves. The front finger groove is almost large enough to be classified as a finger guard. These working in conjunction with the first sentence further aid in obtaining a firm grip. Then the texture on the handle rounds out the package to nail in the last nail on the coffin to ensure a firm grip.
Other features include a 4-position pocket clip which of course is necessary on a fishing/boating/rafting knife to allow fast access. Then there is a small hole in the hilt of the handle that allows you to add a lanyard.
The bright yellow handle aids in easy location if you drop the knife. So my overall view is that even though I have never owned nor planned on owning a folder with a total serrated edge (This knife is basically totally serrated since all but the last ½-inch is serrated) I like this one.
So, I surprisingly like the Spyderco Pacific Salt 2 folder and am carrying it right now. The MSRP on the Spyderco Pacific Salt 2 FRN Yellow is $145.00 and is usual, we will finish with the specs.
The Pacific Salt 2 combines the ultra-corrosion-resistant qualities of H-1® blade steel with the refined ergonomics and four-position pocket clip of the best-in-class Endura 4 Lightweight.
Its linerless construction also further reduces the knife's weight and its vulnerability to corrosion. This version of the Pacific Salt 2 features a bright yellow handle that is easy to see in and around the water and is offered with a PlainEdge™ or fully serrated SpyderEdge™ blade.
Overall Length – 8.72″ (221mm)
Blade Length – 3.78″ (96mm)
Steel – H-1
Closed Length – 4.98″ (126mm)
Edge Length – 3.39″ (86mm)
Weight – 2.8oz (79g)
Blade Thickness – 0.114″ (2.9mm)
Handle – FRN
Clip Position – Ambi
Tip Carry Position – 4-position
Lock Type – Back Lock
Grind – Hollow
Sheath – N/A
Origin – Japan
---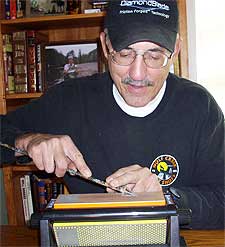 About Tom Claycomb
Tom Claycomb has been an avid hunter/fisherman throughout his life as well as an outdoor writer with outdoor columns in the magazine Hunt Alaska, Bass Pro Shops, Bowhunter.net, and freelances for numerous magazines and newspapers. "To properly skin your animal, you will need a sharp knife. I have an e-article on Amazon Kindle titled Knife Sharpening #ad for $.99 if you're having trouble."