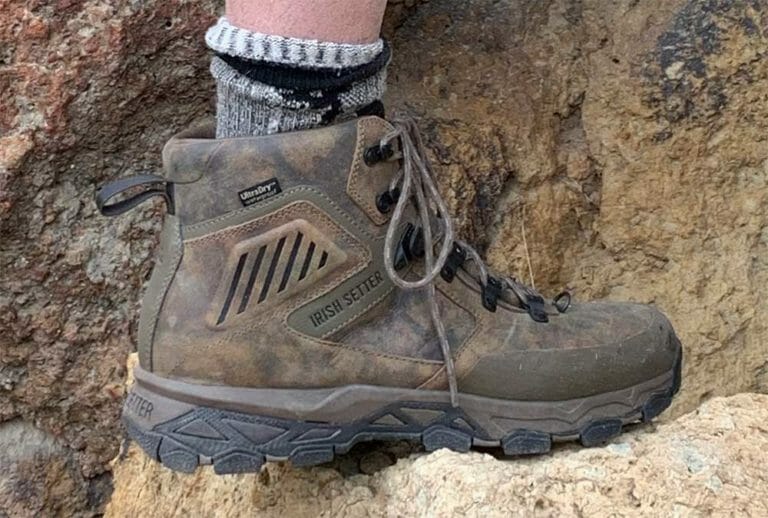 Idaho – -(AmmoLand.com)- In the old days when you bought a pair of boots, you'd soak them in a bucket of water. Then you'd throw them on and wear them until they dried out. Presto! You now had a pair of form-fitted boots for your feet. I don't know. Maybe we were gluttons for punishment? Or maybe it was just that no one knew any better? Or maybe we were just stupid?
Regardless of how you answer the above question, there are better ways to break in your boots. I'm sure the above methods worked but, there is a way that will be a lot less torturous on your feet. When I get a new pair of boots, I'll wear them around town for 2-3 weeks. Go get the mail in them, go grocery shopping, or wear them to Church. That way you're breaking them in slowly and letting them gently form to your feet.
I guess like any other kid/young man, I didn't make much money so I had to buy cheap boots. Where I worked would give us a boot allowance every 6-months of something like $40 or $60. I'd buy a cheap pair of Payless brand boots. By the time 6-months was up, they were shredded.
So I always wore cheap boots. But once Mom gave me some money for Christmas and I added to it and bought my first pair of good boots. I'd always heard how great Danner's were, the Special Forces used them, and so forth so I bought a pair. I had a spot/stalk bear hunt lined up. So I pulled them out of the box, slapped them on, and took off hiking over the mountains. The mountains in Idaho are pretty steep and by the time I made it back to camp that night I was about to die. I barely could walk the last mile or two. I had blisters all over.
I was about to panic. I'd spent $185.00 (this was years and years ago, so I was a heavy price) on a pair of boots and they killed me worse than a pair of $29.99 Payless boots! I thought I was going to have to throw my new pair of boots away.
I learned from the above experience that you need to break in a new pair of boots slowly. As recommended above, wear them around town, running errands for a couple of weeks. Even something as non-strenuous as wearing them to Church works.
So when I got a pair of Irish Setter Pinnacles specifically the Irish Setter Men's Pinnacle 7″ Waterproof Hunting Boots and I did as recommended above. I wore them to Church. Then the next day I wore them while flying to South Dakota. I did this for 2-3 weeks and then they were fitted to me and ready to hit the mountains. I took them to Leslie Gulch, OR which is a beautiful gulch which is where I took the pics for this article.
I like the Irish Setter Pinnacle. They're a decent-looking pair of boots plus they have one feature that I don't see on hardly any lace-up boots. Where the top eyelet normally is, these have a hook. I can't tell you how nice this is. That way you can pull the tongue down and put your foot into them with no effort. Setting at home reading this article might not sound like a big deal to you but I can't tell you how convenient this feature is.
I like for my hiking boot to be tall enough to provide me with ankle support, these do. I couldn't find the weight of them but they seem mid-weight to me after handling them for a few weeks. One disclaimer, the Irish Setter ScentBan feature doesn't seem to work for me.
So if you're in the market for a hiking boot to hunt in until the deep winter snows hit, I'd recommend checking out the Irish Setter Pinnacles.
There are different models but the 2704's MSRP is $219.99 [cheaper $$ online] and as is usual, we will close with the Irish Setter product comments.
Irish Setter® Pinnacle boots feature advanced technology for greater stability and comfort for hunters and outdoor enthusiasts. Pinnacle's patented ATC outsole with Ground Sensing technology allows the sole to shape and contour to rocks and uneven surfaces to enhance underfoot stability. Irish Setter Field Camo Leather, in Earth and Desert patterns, offers superior concealment and coordinates with other popular camo patterns to match a variety of terrain types. This proprietary camo-dyed Troutbrook® leather is made in Red Wing, MN.

TempSens technology helps regulate the temperature within the boot to maintain constant foot comfort. In hot conditions, the system reacts so moisture is hyper-wicked away from the foot, facilitating evaporative cooling. This helps keep feet cooler, drier and more comfortable. In colder conditions, the system also pulls moisture from the skin, but traps it to create a thermal barrier that helps maintain a constant, comfortable temperature inside the boot.

The contoured last mirrors foot shape for excellent fit and superior comfort. Lace-to-toe eyelets and locking ankle hooks help customize a secure fit. The upper provides other comfort and performance features like UltraDry™ waterproofing for long-lasting protection and a memory foam collar for instant comfort. The Cushin™ Comfort Tongue provides comfort in the shin area while impact foam protects from objects striking the ankle. ScentBan™ scent control eliminates odors within the boot. A full leather gusset keeps debris out and Armatec™ technology adds durability and abrasion resistance in high-wear areas of the heel and toe. A D-ring at the toe facilitates gator attachment.

EnerG material underfoot provides comfort and sustained support through an energy-returning core sandwiched between midsole and outsole. A resilient EVA/memory foam footbed adds another layer of comfort. The Anti-Torsion TPU Chassis extends from heel to forefoot, providing underfoot support on uneven or rocky ground. A rubber outsole with multi-tiered lugs provides superior traction on uneven terrain and self-cleaning lugs shed debris with every step.
---
About Tom Claycomb
Tom Claycomb has been an avid hunter/fisherman throughout his life as well as an outdoor writer with outdoor columns in the magazine Hunt Alaska, Bass Pro Shops, Bowhunter.net, and freelances for numerous magazines and newspapers. "To properly skin your animal, you will need a sharp knife. I have an e-article on Amazon Kindle titled Knife Sharpening #ad for $.99 if you're having trouble."