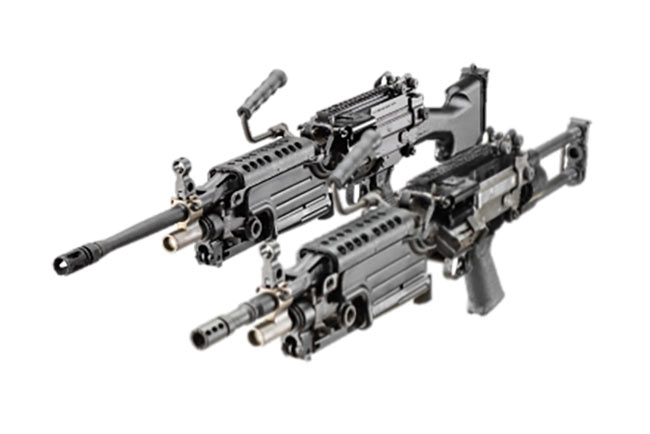 U.S.A. -(AmmoLand.com)- FN America, LLC is pleased to announce that the FN M249S semi-automatic belt-fed rifle is now available to order in both the Paratrooper, or PARA, and Standard configuration. After a manufacturing hiatus, these new rifles are now in production and available for order.
"Since it was introduced, the FN M249S has outpaced our expectations in terms of customer interest and sales," remarked Chris Cole, Vice President of Sales and Marketing for FN America, LLC. "After a hiatus in manufacturing to focus on other core FN products, we are extremely excited to make these available to our customers and loyal brand fans again. We are expecting new inventory to be readily available at retailers by the spring."
The FN M249S semi-automatic belt-fed is part of the FN Military Collector Series, introduced in 2015 to bring to market classic interpretations of the firearms that FN designed and sold to the U.S. military. The line also includes the FN Military Collector M4 and M16, semi-automatic versions of the military's M4A1 and M16A4.
The closed-bolt FN M249S Standard is the classic FN M249 SAW configuration with an 18.5-inch cold hammer-forged and chrome-lined barrel made from FN's proprietary steel with quick-change capabilities, an ergonomic polymer buttstock with hydraulic recoil buffer, cross-bolt safety and feeds from a disintegrating M27 linked ammunition belt. The Paratrooper model, or PARA for short, is the compact configuration of the M249 SAW and features a shortened 16.5-inch barrel along with a telescoping and collapsing buttstock.
See the FN M249S series on display at the 2022 NSSF SHOT Show at the FN Booth (#11860) January 18-21, 2022, at the Sands Expo and Convention Center, or visit fnamerica.com for more information.
---
About FN America, LLC
Carry the Future | FN America, LLC, the U.S. subsidiary of Belgium-based FN Herstal, S.A. provides U.S. military, law enforcement, and commercial customers with a complete range of state-of-the-art, groundbreaking solutions developed around small caliber firearms and associated ammunition under the FN brand name.
FN Herstal is the Defense & Security entity of Herstal Group that also includes a Hunting & Sports Shooting entity (Browning and Winchester Firearms' brand names) and operates globally.
FN product lines include portable firearms, less lethal systems, integrated weapon systems for air, land, and sea applications, remote weapon stations, small-caliber ammunition, as well as modern and cutting-edge solutions to provide enhanced combat, logistics, maintenance, and communication capabilities.
In addition to FN America – headquartered in McLean, Virginia, with manufacturing operations in Columbia, South Carolina –, FN Herstal is the parent company of FNH UK in England and Noptel (electro-optics) in Finland.