U.S.A. –-(AmmoLand.com)- From time to time, we writers here at Ammoland.com like to take a moment from reviewing what's new, and discuss what's not.  More specifically, we like to discuss our "go-to" guns.  These are the ones we choose when as reviewers, we have access to a pretty wide selection.  These comparisons can lead to great discussions, debates, and the occasional argument, but most of all they lead to honest self-assessment and reflection.  While others may choose a different handgun, my EDC is a Glock 43X because it best fits my needs and carry lifestyle.  Today though, we're breaking down my number one go-to rifle, a modified Noveske Ghetto Blaster.
The Noveske Ghetto Blaster was released in late 2017 and implements licensed design features from the Q Honey Badger, including the proprietary stock, "Cherry Bomb" muzzle device, and receiver contours.  After some controversy regarding the name "Ghetto Blaster", Noveske renamed the line the "Gen 4 N4 PDW" after the first 100 (rumored) units shipped.  Eventually, the Ghetto Blaster moniker would make a comeback as an option, so that law enforcement agencies had the option of buying the politically correct Gen 4 N4 lineup.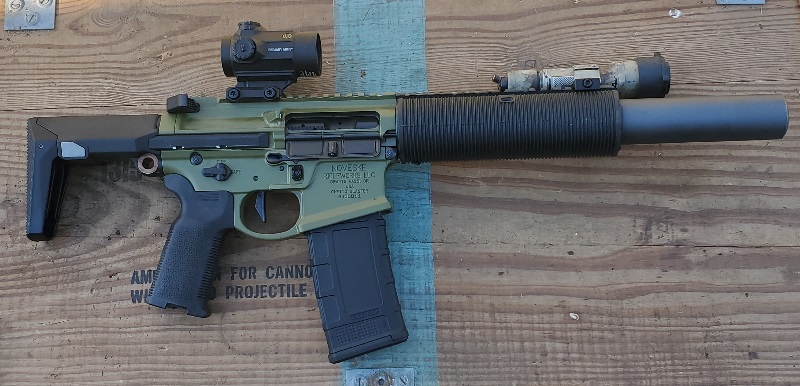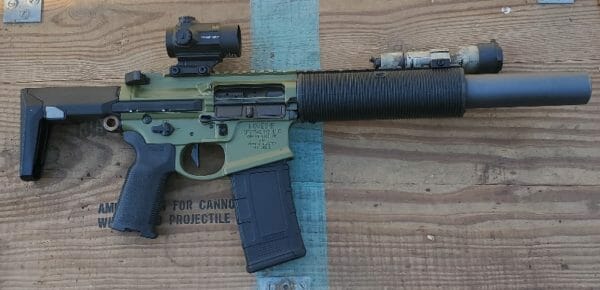 This particular rifle started out as a 16″ barreled 5.56 chambered gun, but was SBR'd and had a 6″ .300 Blackout barrel swapped in.  It is among the first dozen rifles produced under the original Ghetto Blaster line, not that this detail makes it shoot any better.  I've used this gun as a test bed for almost a dozen different short .300 blackout barrels from 4.75″ to 7.5″, not to mention half as many different fore-end configurations and twice as many optics.
I run a Suppressed Armament Systems suppressor (more on that later) permanently tucked under a Smoke Composites carbon fiber handguard hidden under an Mp5SD shroud.  A 45° light mount up front gives me white light and infrared light capability, courtesy of my vintage GWOT Surefire 6P flashlight with an IR filter.  To top it off, a Primary Arms SLx-MD25 red dot has replaced my Trijicon ACOG, as we've moved onto a big parcel of land in the woods where sightlines are rarely out to 100 yards.  This red dot is night vision compatible, which is handy when the coyotes come slinking after sleeping chickens.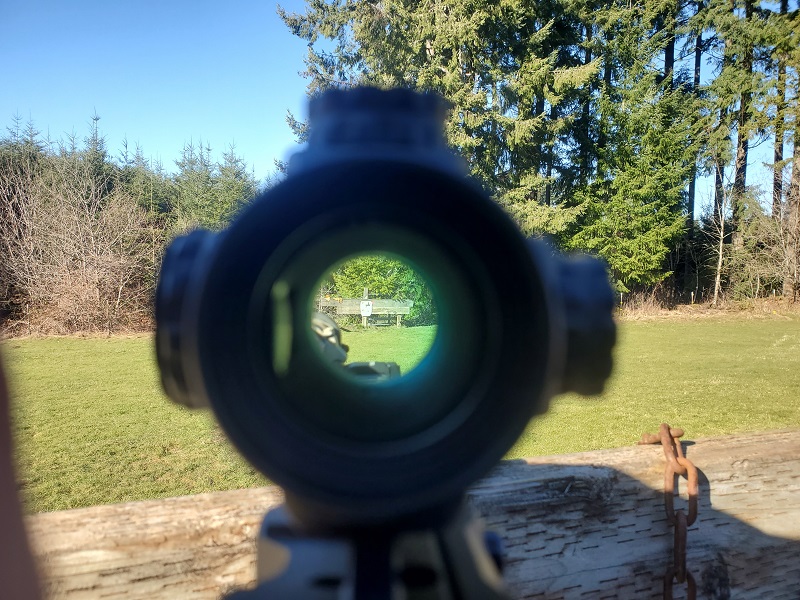 Now that we've covered what the gun is and has, we can cover why the gun is set up this way.  What is it that I like about this particular gun over the (number redacted) other guns I have to choose from?  Let's start from the back and work forward.
The stock is not just licensed from Q, it's made and shipped to Noveske by Q as well.  It isn't the most comfortable, but it doesn't rip out beard hairs when I shoot, and collapses into a compact form for storage and transport.  This stock has three positions, open, mostly open, and closed.  The stock section also has a nice QD sling port, making it a matter of seconds to add that option.
The trigger is a Geisselle SD-E, a fantastic two stage trigger that isn't too light on the second stage.  The Ghetto blaster has an ambi safety, and ambi bolt release, a pair of features I feel should be standard on every modern AR-15.
The suppressor is a Reaper (titanium) from Suppressed Armament Systems.  It's light, it's rated for .300 Win Mag, and it does a good job of sound suppression.  I have some suppressors that are a little more effective but weigh nearly twice as much.
While a short barrel and titanium suppressor help keep forward weight down, the Smoke Composites carbon fiber handguard does some heavy lifting in that category too, weighing a scant 3.7 ounces.  This means this Noveske Ghetto Blaster isn't too front-heavy, even after I slap on the flashlight and Mp5SD shroud (which is really a comfort item, always comfortable and grippy, rain or snow).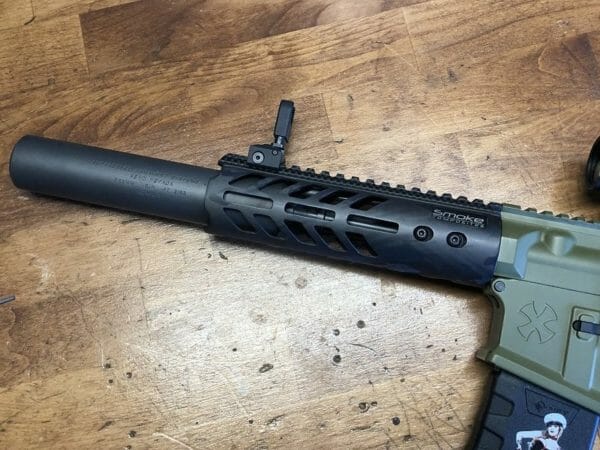 The final piece of the puzzle is ammo.  I chose this 6″ barrel from Right To Bear out of the many I've tested from V7, Q, KAK, Daniel Defense, and more, not because it was the most accurate with some kind of ammo, but because it was the most accurate with the best kind of ammo I can regularly find.  While I'd love to have a big stash of Barnes 110gr T-TSX, it's simply too often unavailable or priced so astronomically that it may as well not exist.  Instead, I use Federal's 120gr Power Shock, which shoots well from this gun and has proven terminal performance from this barrel out to 200 yards, where it performed open-heart surgery on a mule deer.
When it comes to being a bit more discreet, it's only fitting I turn to Discreet Ballistics 188 gr Subsonic Selous Expanders.  They're quiet, accurate, and check out what 300% expansion looks like.  My Noveske Ghetto Blaster loves them,
In the end, I've got a rifle that's nearly perfectly suited to my particular needs.  It brings a strong punch from across the room to as far as I can see on this property, and beyond.  It is both accurate and comfortable and doesn't carry a bundle of extra bells and whistles.  It is light enough and compact enough that I've no excuse not to take it along when I'm hiking around investigating cougar scat or a suspicious vehicle idling at the end of the driveway at 2 AM.  It is ready to go day or night, and even for NVG use.  I'm never done tinkering, so I expect I'll still be making some changes and adjustments as time goes by.
I have many other guns for many other purposes, but this one goes first.
---
About Rex Nanorum
Rex Nanorum is an Alaskan Expatriate living in Oregon with his wife and kids. Growing up on commercial fishing vessels, he found his next adventure with the 2nd Bn, 75th Ranger Regt. After 5 tours to Afghanistan and Iraq, he adventured about the west coast becoming a commercial fishery and salvage SCUBA diver, rated helicopter pilot instructor (CFII) and personal trainer, before becoming a gear reviewer and writer."