U.S.A. –-(AmmoLand.com)- If you've spent more than a few minutes with a MOS Glock, you likely know that the OEM optic plates are complete garbage. Made from poor quality materials, requiring additional bulk, with poor thread engagement and non-existent quality control, it's clear that Glock isn't terribly concerned with securely mounting optics to their handguns. On more than one occassion I have received warped plates from the factory, completely unable to achieve zero, no stay securely attached to the slide.
After several negative experiences with factory options, I began to look elsewhere. One of the leaders in aftermarket optic plates is C&H Precision, also known as CHPWS. After a brief, but positive experience with the Trijicon SRO plate, I wanted to see how they worked in the long term. Curious to see how they stacked up, I snagged a C&H Precision MOS plate for the Holosun 509T. How has it performed over the past year?
Construction and Design
One of the big stand-outs of the C&H Precision plates compared to factory MOS plates is the construction. C&H plates are significantly slimmer and made of superior materials. The plates themselves are made from 6061 aluminum, with black anodizing. Thickness is kept consistent between 0.095 to 0.099 inches. The screws provided by C&H Precision for mounting the plate to the slide, and optic to the plate are stainless steel.
Mounting the C&H Precision MOS Plate
I picked up my CHPWS MOS plate in January 2021. After throwing some of the included Vibratite VC3 on the screws, I mounted the plate to my Glock 19 and my Holosun 509T to the plate. For added measure, I threw some more Vibratite VC3 on the 509T's screw as well. While this second smattering of thread locker isn't required or even often recommended, it's extra peace of mind for me. I surely wouldn't regret greater security, but I may regret forgoing it later down the road.
Thanks to the stronger, yet thinner construction of this plate, users get far more thread engagement into the slide than with traditional MOS plates. This ensures the plate stays secure to the slide under far more punishing conditions than what OEM offerings can endure. Additionally, this slightly reduces height over bore, along with lowering the center of gravity for the optic. These measures help with your bore offset at varying distances, along with very slightly reducing felt recoil. This also helps with compatibility with varying heights of backup iron sights. As the Holosun 509T is a taller optic, this can sometimes be problematic. I am able to use my Ameriglo GL-429 iron sights with this C&H Precision plate, which likely would not have been possible with a stock MOS plate.
Round Count and Class Time
As of this review, I have fired 3,838 through my Glock 19 using the C&H Precision plate and Holosun 509T combo. This includes:
65x Herter's 115gr FMJ
75x Speer Lawman 115gr FMJ
100x Fiocchi Range Dynamics 115gr FMJ
162x Browning 115gr FMJ
291x On Target 115gr FMJ
393x Federal American Eagle 115gr FMJ
750x Blazer Brass 115gr FMJ
50x Fiocchi range dynamics 124gr FMJ
50x Winchester NATO 124gr FMJ
50x Speer Lawman 124gr FMJ
760x Blazer Brass 124gr FMJ
1,044x Aguila 124gr FMJ
42x Federal HST 124gr JHP
6x Speer Gold Dot 124gr +P JHP
Roughly 175 rounds of the above were fired using a KKM match grade barrel and their matching four port compensator. This includes the 50x NATO rounds and 6x +P Gold Dot rounds. The remaining ~3,600 rounds were using the factory barrel.
Cut Loose
Around the 2,700 round mark my Holosun 509T began loosening from the plate. The greatest movement of the retention screw was 1/4 turn, then staying firm from there. Despite repeat tightening, the screw continues to loosen by 1/4 turn after roughly 50 rounds. This induces very slight rotational wobble in the optic, but it is secure enough to keep rounds on a B8 repair center at 25 yards in this condition. The plate itself is firmly attached to the slide, with no signs of loosening. I attribute the maintaining of zero to the tight fit of the Holosun 509T to the CHPWS plate.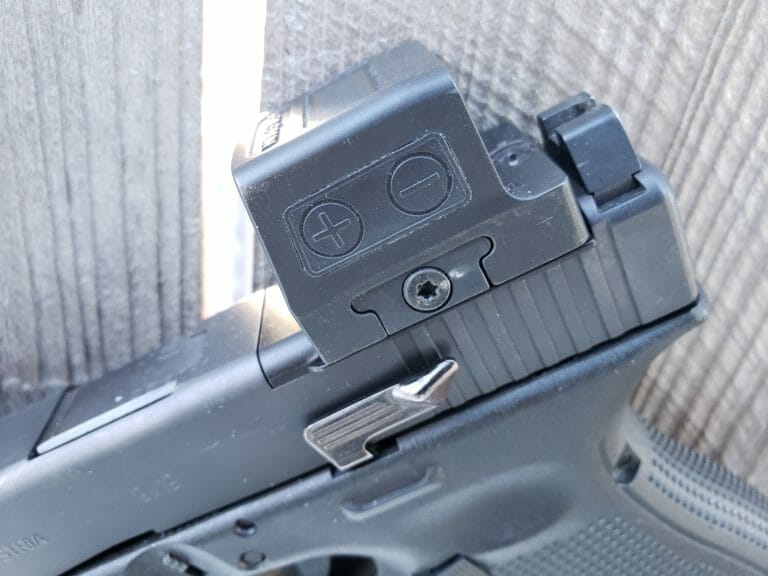 Outside of this slight loosening of the optic, I experienced zero issues with the plate. This combination came with me to several classes, including the Rangemaster Master Instructor course, along with regular range time and a handful of information competitions.
Final Thoughts on the C&H Precision MOS Plate
Overall I've been very happy with my C&H Precision MOS plate for the Holosun 509T. I've trusted both my life and my reputation to it over the past year, and it has never let me down. While I have removed this combination to test other optics, I plan on returning to this configuration later, as it's proven to be a reliable and robust carry system.
If you're looking to mount a red dot sight to your pistol, and your pistol uses a plate system, give C&H Precision a look. They support a wide variety of plate systems and optic choices and frequently come out on top when compared to factory offerings. I know they've won my business several times over.
---
About Dan Reedy
Dan is an Air Force veteran, avid shooter, and dog dad. With a passion for teaching, he holds instructor certifications from Rangemaster, Agile Training & Consulting, and the NRA. He has trained with Darryl Bolke, Mike Pannone, Craig Douglas, among several other instructors, amassing over 400 hours of professional instruction thus far. In his spare time you'll find him teaching handgun, shotgun, and less lethal classes.
Dan's work has been published by Primer Peak, and The Kommando Blog, and he has been featured as a guest on Primary & Secondary.