U.S.A. –-(AmmoLand.com)- Over the past few years, Holosun has moved from being another Chinesium, airsoft tier company to something that many respected folks choose over options from Trijicon, Leupold, and others. Ever so briefly, the Aimpoint ACRO stood alone in the realm of closed emitter MRDS. Quickly responding to customer needs, Holosun put out their own competitor, the 509T. How does it compare to other offerings?
Construction and Use
The Holosun 509T is a closed emitter design, meaning the LED which projects the red dot itself is fully contained within the optic. This helps protect is from weather and other debris, at the cost of additional bulk. Though in the 509T's case, this bulk is reduced from other closed emitter options.
The housing is made from titanium, combining lightweight and high strength. Coming in at 1.72 ounces, it sits healthily between the Trijicon RMR and Aimpoint ACRO in terms of weight. This makes the recoil impulse feel comparable to other open emitter optics, unlike the "ka-chunk" feeling I get with the ACRO.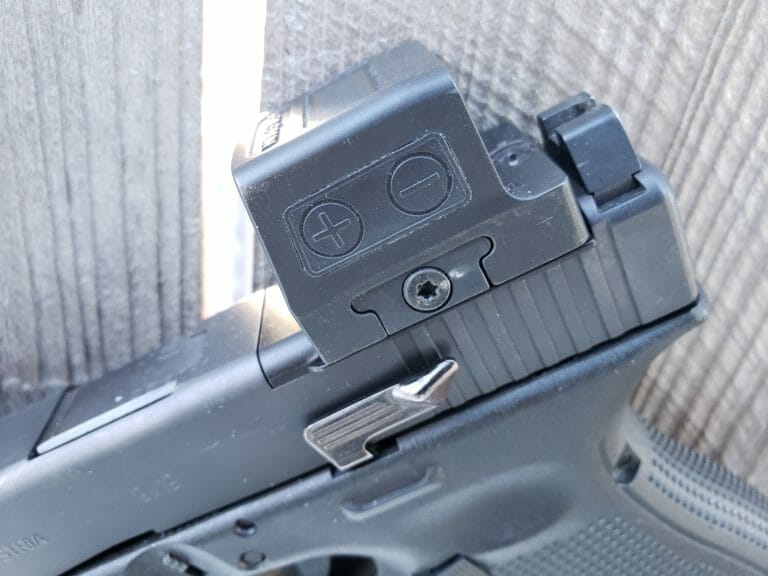 Holosun opted for a proprietary footprint with the 509T, using a crossbolt style attachment method. This provides a strong, low profile way to attach the optic to the pistol. Holosun includes an MOS plate for use with Glock pistols, though I did not use the included plate during this review. Instead I used an aftermarket plate from C&H Precision due to their better reputation for security of optic to plate and plate to gun. We'll detail how well this combination worked below, and in a follow-up article focusing on the plate itself.
Battery Life and Function of the Holosun 509T
The Holosun 509T is powered by a single CR1632 battery. This battery is stored in a small battery tray located on the right side of the optic, secured with a small flathead screw.
Like many other Holosun offerings, the 509T features shake awake technology. This shuts off the optic after periods without movement in order to conserve battery life. Examples include sitting in a safe for storage or laying on the bedside table at night. Once jostled, the optic automatically returns to its previous brightness setting. This happens nearly instantly and is not something that even the more skilled shooters I know could outrun.
Battery Life
Battery life is quoted at 50,000 hours, though this has not been my experience. I picked up this 509T in late January 2021, and immediately swapped the battery for a fresh Duracell. Irregular carry started in May after getting enough rounds through the optic to feel comfortable carrying with it. This was my carry gun for the majority of 2021 and early 2022, taking it through several classes and regular range time. In early December after prepping for dry practice, I noted the battery had suddenly died.
This was quite a surprise to me, as the battery had been replaced roughly 30 weeks prior. This equals out to approximately 1,200 hours. I run my MRDS very bright, near the top of available settings, which will reduce battery life. Typically I replace my batteries every six months, but I wanted to see how long the 509T would last on a fresh battery. Remember folks, quoted hours are typically at a middle setting, so keep that in mind when running your optics extra bright.
Design and Durability
Thanks to its closed emitter design, the main comparison typically drawn to the Holosun 509T is to the Aimpoint ACRO. Regarding shape, the 509T is slightly wider than the ACRO, but shorter front to back. There is a slight step at the rear of the optic, moving the majority of the height of the optic just slightly forward. This relative shortness helps reduce the overall footprint of the 509T, thereby reducing its likelihood of printing. Having carried an ACRO since mid-2019, I can safely say that the 509T prints less than the ACRO thanks to its reduced length.
Being a somewhat wide optic, the glass in the Holosun 509T is rectangular in nature, with the top just slightly rounded. Think sort of along the lines of a DeltaPoint Pro, but smaller. I haven't found this to be particularly helpful or hindering during shooting, though it does make for a somewhat interesting sight picture. Thanks to the fairly thin material around the glass, the housing largely disappears from view when target-focused, helping to provide a clean sight picture.
Atop the housing is a solar panel, as is typical with optics from Holosun. The 509T can be run in solar-only mode if necessary or desired. This is something I didn't do much testing on, as I prefer my dot to be consistent, even if lighting conditions may not be.
Durability
No durability issues have presented themselves at the time of this review. I have not performed drop testing or anything of that sort, simply leaving it to the rigors of daily life and training.
Controls and Adjustments on the Holosun 509T
Controls are very straightforward on the Holosun 509T. There are two buttons to adjust brightness located on the left side of the optic. Pressing these rubberized buttons provides tactical feedback for adjustments, without any audible click. Holding these buttons in various manners can shut off the optic, change functions of battery and brightness, as well as changing the reticle shape. There are two options for reticles in my example, a plain 2MOA dot, and a 32MOA circle with 2MOA dot configuration, similar to an EOtech reticle. I prefer the single dot, and that is what I have exclusively used throughout the course of this review.
Adjustments
Like with other Holosun MRDS, adjustments for zero are a bit of a pain. More so here than with the open emitter options I've used. Holosun provides a unique tool for adjusting zero with the 509T, as the windage adjustment is located close to the rear window, making traditional tools impossible to use. My adjustments are so stiff that I broke a tool trying to zero my gun initially. I blame this on stiff adjustments, as well as the poor quality materials used in the construction of the tools.
Clicks are hit-or-miss regarding both tactile and audible feedback, making it difficult to get an accurate idea how of much you've adjusted the reticle. Each click provides 1MOA of adjustment, which is fairly typical for MRDS.
Reticle and Glass Quality
Glass quality is middle of the road compared to options from other manufacturers. There is very minor magnification, with slight distortion around the edges of the glass. The glass is very slightly tinted, which helps with battery life, though the tinting if very minor. Overall the tint and magnification are significantly less severe than in my RMR, which is a big win for the 509T.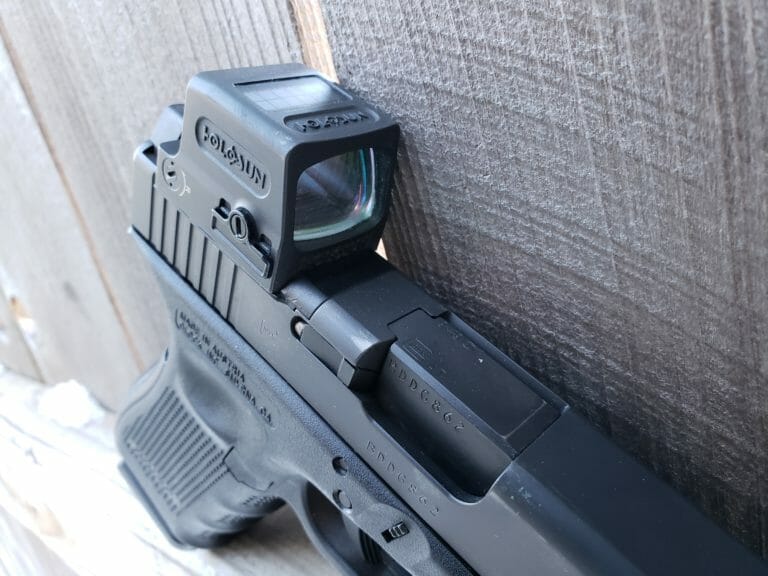 Reticle quality is highly subjective based upon the user's eyes. For me, the 509T has one of the better-looking reticles, coming in just behind the ACRO and SRO in terms of crispness. This puts it on par with other Holosun MRDS I have in my collection. The reticle doesn't get as bright as I'd like, staying comparably bright with the Aimpoint ACRO. Curiously, I've heard many complaints about ACRO brightness in the past, but none about the 509T. They're both usable for me in the Summer sun, but not ideal.
Range Time
The Holosun 509T has seen the most use of an optic prior to review for me thus far. It has been through several classes including the Rangemaster Master Instructor course, Armed Parent/Guardian, and more. It has proven to be compatible with all optics-ready AIWB holsters in my inventory, as well as a Safariland 6354DO for the DeltaPoint Pro, and a 6360RDS for the RMR.
Pure accuracy testing is not something that I focus on in my reviews, due to my shooting ability. For reference, I have been able to keep my rounds in the 10-ring of a B8 at 25 yards during the zeroing process. Using the guillotine method, I am able to stay minute-of-B8 Repair Center at 10 yards, making this method acceptable for use out to this distance in the event of a damaged optic.
Round Count and Class Time
As of this review, I have fired 3,471 through the 509T with the C&H Precision plate.
65x Herter's 115gr FMJ
100x Fiocchi Range Dynamics 115gr FMJ
157x Browning 115gr FMJ
241x On Target 115gr FMJ
393x Federal American Eagle 115gr FMJ
750x Blazer Brass 115gr FMJ
50x Fiocchi range dynamics 124gr FMJ
710x Blazer Brass 124gr FMJ
995x Aguila 124gr FMJ
10x Federal HST 124gr JHP
Around the 2,700 round mark the 509T began loosening from the plate. The most movement was 1/4 turn, then staying firm there. Despite tightening, the screw continues to loosen by 1/4 turn after roughly 50 rounds. This induces very slight wobble in the optic, but it is secure enough to keep rounds on a B8 repair center at 25 yards in this condition. A small amount of VC3 thread locker was used upon initial mounting, and I suspect more is required now.
As an anecdote, my Ameriglo rear sight began sliding out at the same point. This ended up making it halfway out of its dovetail before being pressed back into place. Both of these occurred during the Rangemaster Master Instructor course but did not noticeably impact my performance. For those in the "irons never fail" club, that has not been the case in my experience.
Final Thoughts on the Holosun 509T
The Holosun 509T is a very good optic. I've trusted my life and reputation to it for the past nine months and it has continually performed for me. Sizing is solid, battery life is good, and its overall performance has been on par with higher-priced competitors. While I cannot say it is my favorite option, it has earned a permanent place in my inventory, and I would be happy to buy more.
If you're looking for a red dot for your pistol, shotgun, or carbine, give the Holosun 509T a serious look. I doubt you'll be disappointed, I know I haven't been.
---
About Dan Reedy
Dan is an Air Force veteran, avid shooter, and dog dad. With a passion for teaching, he holds instructor certifications from Rangemaster, Agile Training & Consulting, and the NRA. He has trained with Darryl Bolke, Mike Pannone, Craig Douglas, among several other instructors, amassing over 400 hours of professional instruction thus far. In his spare time you'll find him teaching handgun, shotgun, and less lethal classes.
Dan's work has been published by Primer Peak, and The Kommando Blog, and he has been featured as a guest on Primary & Secondary.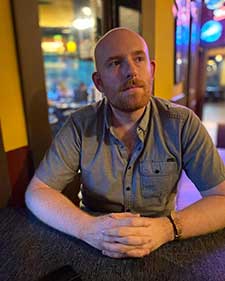 Some of the links on this page are affiliate links, meaning at no additional cost to you, Ammoland will earn a commission if you click through and make a purchase.