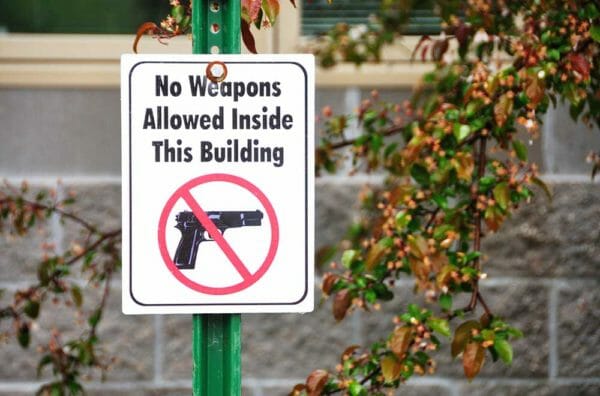 WASHINGTON, D.C. -(Ammoland.com)- Democratic House Majority Leader Steny Hoyer is calling for a ban on firearms at the U.S. Capitol.
The anti-gun Democrat is using an incident of controversial Republican Congressman Madison Cawthorn of North Carolina being caught in an airport with a firearm for a second time as an excuse to call for the ban. On Tuesday, the 26-year-old Representative was caught by a TSA agent at Charlotte Douglas International Airport trying to bring a loaded 9mm pistol through a security checkpoint. Charlotte-Mecklenburg Police Department cited Cawthorn with "possession of a dangerous weapon on city property."
Last August, another TSA agent busted Cawthorn for the first time at Asheville Regional Airport with a loaded firearm. Hoyer claimed to be distressed about Cawthorn's legal troubles over carrying loaded guns through airport security. The Maryland Democrat claims those incidents prompted him to call for the U.S. Capitol to become a gun-free zone fully.
Washington, DC has a "shall issue" policy concerning concealed firearms permits. Although average citizens are banned from carrying a firearm on federal property, members of Congress can and do carry guns at the Capitol building. Democrats have long pushed for these rules to be changed. Anti-gun Democrats raised the alarm when it was discovered that Republican Freshman Rep. Lauren Boebart would be carrying a gun at the Capitol. Hoyer's letter seems to be the latest effort by Democrats to get the rules changed.
"I hope that you and your Capitol Police Board colleagues will move swiftly to adopt proposed changes to Police Board Regulations Pertaining to Firearms, Explosives, Incendiary Devices, and Other Dangerous Weapons… to reflect today's security challenges," Hoyer wrote to Capitol Police.
Hoyer also wanted to know if the Sergeant-at-Arms' thought "the Capitol Complex ought to be made a fully gun-free zone."
This communication is the second letter Hoyer sent to Capitol Police trying to make the Capitol a "legal gun-free zone." The last time the Congressman used a tweet of a meme that Republican Rep. from Arizona, Paul Gosar, Sent out. The tweet was an anime of Gosar fighting Rep. Alexandria Ocasio-Cortez and President Joe Biden.
Hoyer claimed he saw this tweet as a threat against AOC and Biden instead of the joke that Gosar intended. Congress censured Gosar and removed him from his committee positions. Hoyer demanded the "inclusion of language clarifying that firearms are prohibited from committee spaces… Capitol complex dining halls, restrooms, and all other spaces outside of Members' personal offices."
Hoyer claimed that armed elected officials are a threat to public safety. He claims to believe that armed members of Congress would be an actual danger to visitors, police, and other politicians. Most gun rights advocates think that Hoyer is using the Cawthorn incident as an excuse to ban guns at the Capitol.
"This matter concerns the safety and wellbeing of every individual who serves in Congress, who works in the legislative branch, who visits his or her representative's office, who tours the historic U.S. Capitol, and who stands guard here as part of the Capitol Police or other law enforcement agency," Hoyer stated.
Cawthorn and U.S. Capitol Police didn't respond to AmmoLand's request for comment.
---
About John Crump
John is a NRA instructor and a constitutional activist. John has written about firearms, interviewed people of all walks of life, and on the Constitution. John lives in Northern Virginia with his wife and sons and can be followed on Twitter at @crumpyss, or at www.crumpy.com.