Ruger Introducing Two New Versions of the Ruger Mini-14 Rifle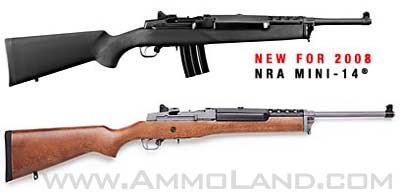 Sturm, Ruger & Company – -(AmmoLand.com)- Announces new models of the Mini-14 Ranch Rifle and Mini-14 Tactical Rifle. These are the latest additions to the Ruger® Mini-14® series of rifles that have been extremely popular since first introduced in 1974. Chambered in .223 Rem, they continue the well-deserved reputation as simple, rugged and reliable, hallmarks of all Ruger firearms.
The blued 16-1/8″ barreled ATI Mini-14 comes equipped with a six-position collapsible/side folding buttstock from Advanced Technology International USA (ATI). The stock features an adjustable cheekrest, a rubber buttpad, four Picatinny rails, storage for batteries inside the stock tube, and six sling swivel stud mounting locations. The virtually indestructible glass-filled nylon matte black stock is made in the USA.
The stock folds to the left side of receiver and the ATI Mini-14 may be fired from the folded position. The pistol grip matches the ventilated forend top cover.
The ATI Mini-14 weighs approximately eight pounds, has an overall length of 37-3/4 inches with the stock extended, and a collapsed length of 34 inches. It is shipped with one 20-round magazine.
The Mini-14 Tactical Rifle features a 16-1/8″ blued alloy steel barrel with flash suppressor, is mounted in a black synthetic stock, and is shipped with one 20-round magazine. The Mini-14 Tactical Rifle has an overall length of 35-1/2 inches and weighs approximately 6.75 pounds.
Sighting systems for the ATI Mini-14 and the Mini-14 Tactical model include an adjustable "ghost ring" aperture rear sight and a protected non-glare post front sight. Patented Ruger scope bases are machined directly into the receiver and can never shoot loose. A set of Ruger scope rings is included at no charge with each rifle. Side ejection of cartridge cases easily clears the lowest-mounted optics, and a patented recoil buffer helps protect optics from damage over repeated firing.
Collapsible and/or folding stocks may not legally be possessed in some state and locales due to laws limiting firearms features. Prior to purchasing, please check your state and local regulations to verify that you may legally possess these firearms.
About Sturm Ruger
Sturm, Ruger was founded in 1949 and is one of the nation's leading manufacturers of high-quality firearms for the commercial sporting market. Sturm, Ruger is headquartered in Southport, CT, with manufacturing facilities located in Newport, NH and Prescott, AZ.
Sturm, Ruger & Co., Inc. "Arms Makers for Responsible Citizens"®