AR-15 or M16 GPS-LE GRIP POD
Vertical Forend Grip With Built-In Quick-Deploy Bipod.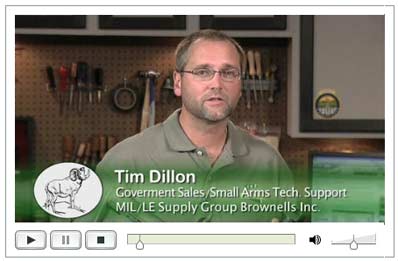 Mfr: GPS, LLC.
Made in the USA

Brownells.com – -(AmmoLand.com)- Vertical grip with quick-deploy bipod legs is an economical alternative for applications where the original GPS-02 Grip Pod's function and benefits are desired, but the steel reinforcements in its legs are excess to requirements.
The GPS-LE (Law Enforcement) locks to the bottom accessory rail of your tactical rifle's forend, just like the GPS-02, to provide the same enhanced control during CQB and a stable bipod rest for precise long-range fire. The grip's hand-filling contours and deep grooves provide a solid purchase even when your hands are wet.
Hit the large, deeply grooved release button, and a powerful spring deploys the legs instantly. Conveniently placed for thumb activation, the button sits flush with the surrounding surface to prevent accidental deployment.
Extended legs provide sufficient elevation for a standard 30-round magazine to clear the ground, and will not snag on brush, vehicle interior, or other gear when retracted. Legs and grip are made of tough, injection-molded polymer; steel cross-bolt with easy-grip thumbscrew locks directly to any MIL-STD 1913 Picatinny Rail to ensure a rock-solid fit. Accepts GPRS1 and GPRS2 bolt-on accessory rails, available separately.
May be used on many non-AR rifles and light machine guns with forend accessory rails.
Check out the Video Demonstration of the Grip Pod.

SPECS: Reinforced polymer, black. 6¼" (15.9cm) long with legs retracted. 8½" (21.6cm) high with legs extended. 13?8″ (3.5cm) diameter. 7 oz. (197g).
About:
Brownells is the world's largest supplier of firearm parts, gunsmithing tools, equipment and accessories. Stocking more than 30,000 items, the company supplies armorers, gunsmiths, and shooters worldwide. All of their products are backed by a 100% satisfaction, unconditional, lifetime guarantee. To order, or for more information, call 800-741-0015 or visit Brownells.com.