PUMA M-92 Bounty Hunter Rifle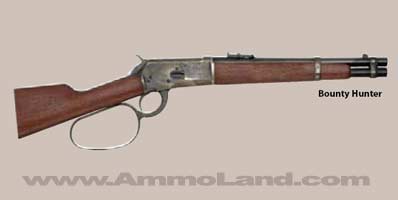 Puma Rifles – -(AmmoLand.com)- Based on the gun that cowboy character Josh Randall carried in the 1950's television series by the same name, Legacy Sports International announces the release of the Bounty Hunter Model 92 under their popular Puma brand.
Manufactured in Italy by Chiappa Firerms,the Bounty Hunter is considered by Federal Law a handgun, not a rifle. It's 12 inch barrel and 24 inch overall length make it ideal as a pack gun or a nostalgia collectible.
With a six round magazine, the Bounty Hunter also features a large, ¾ loop lever and the same beautiful wood and metal finish as the new line of full sized Model 92's.
Available in .45 Colt, .44-40 or .44 Magnum.
BOUNTY HUNTER
Caliber      Catalog Number        Finish Barrel/Receiver     Barrel     MSRP
.45             LC PCH-920185              Case Hardened/Blued          12"      $1,250.00
.44/40     PCH-920186                    Case Hardened/Blued          12"      $1,250.00
.44MAG  PCH-920207                    Case Hardened/Blued          12"      $1,250.00
About:
Armisport Chiappa was founded in Brescia, Italy in 1958 by Ezechiele Chiappa and specialized in replica Black powder and muzzle loading firearms. Over the past 50 years the company has evolved into what is known today as "The Chiappa Group" and is chaired by Ezechiele's son Rino Chiappa. The Chiappa Group has established a reputation of providing quality firearms and services in a worldwide market through experience and a commitment to its customers to uniquely blend old world hand craftsmanship with the most modern of machining technology. This blend of craftsmanship and technology has yielded treasures of the past which are truly antique art in the form of arms. Today, the Chiappa Firearms group is a solid and fluent reality, with a commitment to shooting enthusiasts offering a wide variety of high quality products worldwide. Chiappa Firearms is proud to be involved in the evolution of the Puma 92 series of lever action rifles and Legacy Sports International's desire to make available the highest quality product that modern manufacturing techniques can allow, while maintaining a commitment to historical accuracy and traditional values.