Shooting USA Goes Western Three Gun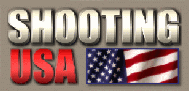 Shooting USA – -(AmmoLand.com)- This Week, The High Action, High Accuracy, New Sport of Western Three Gun. Plus Bob and Becky challenge each on the range.
ShootingUSA – Western Three Gun
It's the new form of Cowboy Action Shooting for competitors who want more challenge in the game. Western Three Gun scores points for accuracy and designs stages of fire that require shooting on the move. It's the next step for cowboys and cowgirls. Then the Army Marksmanship Unit Service Rifle Team teaches the positions you'll need to improve your scores — standing, sitting, and prone.
Sighting In with Shooting USA – The Guns of Western Three Gun &
D-Day with the 501st Re-enactor Group
We're sighting in on the guns and the gunsmith work for Western Three Gun, then showing you the strategy for shooting a run and gun stage of fire. Plus, we're going to war with the 501st WW-2 Re-enactors who recreate 1944 to honor the Greatest Generation.
Shooting USA' s Impossible Shots – Top this!
Legendary shooters Bob and Becky Munden try to outdo each other on the range. Plus, Byron Ferguson attempts to split an arrow on the head of an axe, Tom Knapp faces a flurry of clays, and Jerry Miculek demonstrates no-sight shooting. Brian Speciale reports the stories of the world's most amazing exhibition shooters.
Join us Wednesday on Outdoor Channel at the following airtimes:
Shooting USA's Impossible Shots airtimes:
* Eastern Time: 3:00PM, 10:30PM, 2:30AM (Thursday AM)
* Central Time: 2:00PM, 9:30PM, 1:30 AM
* Mountain Time: 1:00PM, 8:30PM, 12:30AM
* Pacific Time: Noon, 7:30PM, 11:30PM
The Shooting USA Hour begins at the following times:
* Eastern Time: 4:30 PM, 8:30 PM, 12:00 Midnight
* Central Time: 3:30 PM, 7:30 PM, 11:00 PM
* Mountain Time: 2:30 PM, 6:30 PM, 10:00 PM
* Pacific Time: 1:30 PM, 5:30 PM, 9:00 PM
Jim Scoutten, Shooting USA, www.ShootingUSA.com