Knife Rights and Customs Pocketknife Act Update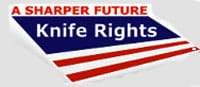 Washington, DC – -(AmmoLand.com)- I'm sure you are wondering what was happening now that Amendment 1447, which solves the Customs switchblade ruling issue, was included in the Homeland Security Appropriations Bill by the Senate.
The simple answer is, for the moment, not much. The next and final hurdle is Conference Committee, where the Senate and House conferees hammer out the two different versions of the bill, and that includes whether or not our amendment survives. The House is currently focused on other business, in case you haven't been watching the news, so the Conference Committee for this bill on the House side hasn't even been officially named (though we have a pretty good idea who will be on it).
The Conference Committee will not meet until after the August Recess. Their goal will be to finish work by end of the fiscal year, September 30. As such, you probably will not be hearing too much, nor is there likely to be any call to action, until September, if then. Our legislative consultants tell us that it makes no sense to write your House Member at this point, with any action over a month away. Politics is often a case of hurry up and wait. We did the hurry up, now we wait until its time to hurry up again. Thanks very much for your patience. Don't forget that we got to this juncture in large part because of all your efforts. Just one more hurdle to go.
That the conference committee won't meet until after the recess doesn't mean we're not working with our friends in the House and Senate to shore up support. In fact, we are working very hard at that behind the scenes. Together with our colleagues in the other advocacy groups we are talking with key players who will be leading the effort to retain the amendment in conference. We'll keep you advised of any important news.
For those who have noticed (and emailed us) that the deadline for Customs to act has come and gone, let's just say you might consider that no news is good news at this juncture, and you might do best not to look a gift horse in the mouth.
For those who have asked how Amendment 1447 would solve the Customs switchblade issue, we've got your answer here:  https://bit.ly/Mwd5E
Doug Ritter
Chairman / CEO
Knife Rights, Inc.
Knife Rights Foundation, Inc.
www.KnifeRights.org
Email:
[email protected]
About:
The first step to building an effective advocacy group is building the membership. Power comes from numbers. Knife Rights offers a range of Charter Memberships and there's one that will suit you perfectly. Invest a modest sum in A Sharper Future. JOIN NOW!
Encourage your friends to join Knife Rights and you can win a custom knife in our Member-Get-A-Member progam, as well as free annual memberships.
Email: [email protected]