Leupold AR-15 Mark 4 CQ/T Rifle Scope Demonstration Video
Combines The Speed Of A Red-Dot With The Precision Of A Rifle Scope.
Manufacturer:LEUPOLD
Price:$1124.99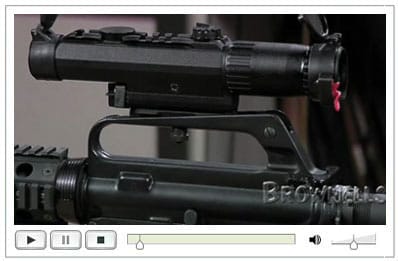 Brownells.com – -(AmmoLand.com)- This video is a demonstration of the Leupold AR-15 Mark 4 CQ/T Scope.
Multi-function, red-dot and optical sight has variable power settings for fast, accurate engagement of close and distant targets.
Use at 1x where the large field of view is excellent for close-in, both-eyes-open target engagement. The 3x setting permits precise target acquisition to 300 yards and beyond. Circle-Dot reticle gives accurate ranging plus hold-over and lead on moving targets. Circle subtends six feet at 100 yards.
Reticle has ten brightness settings, including two for night vision devices; remains visible when not illuminated. Mil-Spec, Picatinny rails, on the top and right side, let you attach accessory lights, night vision equipment or laser designators.
Dual mount system fits both Flattop and A2, carry handle receivers.
SPECS:Black, matte finish. 8.8″ (22.4cm) long. 2″ to 2.8″ (5.1 to 7.1cm) eye relief. 17.5 oz. (496 g) wt. ½ MOA click adjustments. Dot size: 3MOA at 3x, 9 MOA at 1x. Circle size at 3x: 18″ at 25 yards, 6Õ at 100 yards. Uses (1) AA battery. Includes lens covers.
More info on Leupold AR-15 Mark 4 CQ/T Rifle Scope
About:
Brownells is the world's largest supplier of firearm parts, gunsmithing tools, reloading equipment and accessories. Stocking more than 30,000 items, the company supplies armorers, gunsmiths, and shooters worldwide. All of their products are backed by a 100% satisfaction, unconditional, lifetime guarantee. For more information, or to place an order, call 800-741-0015 or visit Brownells.com