CCI Ammunition Launches Newly Redesigned Website
Revamped site offers rimfire ammunition information, load ballistics, videos and updates from world-renowned IPSC shooter and CCI primer spokesman Eric Grauffel.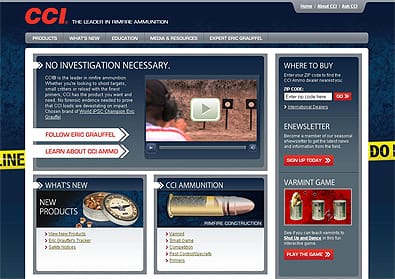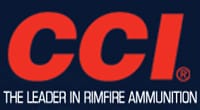 LEWISTON, Idaho –-(AmmoLand.com)- CCI® ammunition has launched a newly redesigned website that offers hunters and shooters an interactive place to find the latest news, products and company information.
A sleek new layout makes for easier navigation and the varmint game offers shooting fun all year long. Visitors will learn the basics on shooting safety and find out why CCI is the chosen brand of World IPSC champion Eric Grauffel. www.cci-ammunition.com.
Site balances product information with essential ballistics
A well organized site design quickly shows CCI's breadth of product. Target shooters, small game enthusiasts and varmint hunters can all find their ideal options. Reloaders can also look up top-quality primers and the new website makes it easy to pick products based on usage.
From in-depth product specs to an interactive "Shut Up and Dance" prairie dog/plinking game (www.cci-ammunition.com/game/default.htm), the site lets customers know what's new and how to get educated on all things shooting.
Expert shooters choose CCI when it counts
Expert competition shooter Eric Grauffel knows what it takes to win. And with more than 2 million rounds shot and zero misfires, Grauffel uses CCI because he demands the very best in primer performance. Site visitors can track Grauffel's winning streak and learn more from this record breaking shooter. www.cci-ammunition.com/ericgrauffel/default.aspx
"As the Leader in Rimfire Ammunition, we pride ourselves on having the best load for every shooting situation," said Rick Stoeckel, Ammunition Brand Manager. "Our website makes this information easy to find. It also promotes safe shooting and is a great place to learn more about the advanced ammunition CCI offers."
For more information on CCI products and to visit the streamlined website, please log on to: www.cci-ammunition.com.
About CCI:
Dick Speer founded Cascade Cartridge, Inc. in 1951 next to the Snake River in Lewiston, Idaho. The company manufactured and marketed centerfire primers for government use in its infancy. CCI now develops them for sporting applications as part of ATK Armament Systems and is the world leader in rimfire products. The company also produces shotshells, industrial powerloads and Blazer centerfire handgun ammunition. For more information, visit www.cci-ammunition.com