Ohioans For Concealed Carry Restaurant Carry Testimony Posted
Ohio's Premier Grassroots Organization Fighting to Protect, Reform and Expand Gun Rights for All Citizens since 1999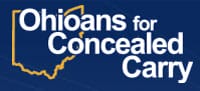 Ohio –-(AmmoLand.com)- On Tuesday, January 19, Ohioans For Concealed Carry President Jeff Garvas, Vice President Bryan Torok, Executive Director Daniel White, and Legislative Coordinator Gary Witt testified before the Ohio Legislature's Public Safety and Homeland Security committee. OFCC also brought in special guest Nicole Goeser to share her story with the committee (Further reading: Restaurant Carry hearing recap).
Garvas secured permission to record video of the testimony given, which is available on OFCC's YouTube channel.
Click on the links below to read or watch the testimony given, listed in the order in which it was presented.
Jeff Garvas: Read testimony
Nicole Goeser: Read testimony |

Daniel White: Read testimony |

Bryan Torok: Read testimony |

Gary Witt: Read testimony |

ACTION ITEM
After you watch the compelling testimony of Nikki Goeser please contact your Representatives and Senators and ask them to watch the video and become co-sponsors of HB203.
Identify your Representative and Senator with the right side of this website using your zip code: https://www.legislature.state.oh.us
(Just enter your zip code and +4 if you know it)
Click on your Representative's name first (if more than one show up, do this for each)
On their website is an email address. Send them an email with the subject "Please co-sponsor and pass HB203"
Send them the URL to the Nikki Goeser testimony and tell them that it took place at proponent testimony on January 19th. Describe it in your own words.
Ask them to co-sponsor HB203 and pass it out of the Ohio House ASAP
Click on your Senator's website (if more than one show up, do this for each)
Send them the same Nikki Goeser testimony from above with your description of the testimony
Ask them to pass HB203 when it comes to the Ohio Senate
We need your help to get our elected officials to continue moving this legislation towards the Governor's desk!
About:
Ohioans for Concealed Carry, founded in 1999, is a grassroots political activist organization. When founded, the primary goal of OFCC was getting concealed carry passed into law in Ohio. With that accomplished, our mission became to refine the concealed carry law and to expand and preserve the rights of all gun owners in Ohio. Visit: Ohioccw.org