Ohio –-(Ammoland.com)- Fellow pro-gun Ohioans,
If you think that we should be continuing to defend our gun rights please help Ohioans for Concealed Carry and click here to donate to the cause.
If you aren't yet an Ohioans for Concealed Carry member please click here and join today!
Thursday, June 21st 2018, lawsuits were filed simultaneously against both the City of Cincinnati and the City of Columbus in their respective County Common Pleas Courts.
At issue are the blatantly anti-gun ordinances these cities have recently passed in obvious violation of the statewide preemption statute that forbids local governments from making their own local rules on guns.
These suits were filed by both Ohioans for Concealed Carry (OFCC) and Buckeye Firearms Foundation (BFF) to demonstrate a united front against the anti-gun politicians of the urban hubs.
The politicians in the City Halls will try to spin that these cases are about "bump stocks", "gun violence", or "home rule". They aren't about any of those things. They are about the settled law that says only the Ohio General Assembly can set firearms law for the entirety of the State of Ohio.
Jeff Garvas, president of Ohioans for Concealed Carry, said, "We have successfully sued other Ohio cities; Cincinnati and Columbus will be no different."
The list of other Ohio cities that have been forced to acknowledge statewide preemption through litigation include:
Cleveland
Oberlin
Campbell
Cleveland Heights
Clyde
We stand against infringement of our fundamental rights. That includes the threats to our rights from ambitious, slick, big-city politicians who push these ridiculous gun control schemes. We will meet them in court and win (again) with your help!
Sincerely,
Ohioans for Concealed Carry.
---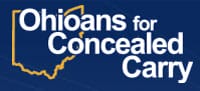 About Ohioans for Concealed Carry:
Ohioans for Concealed Carry, founded in 1999, is a grassroots political activist organization. When founded, the primary goal of OFCC was getting concealed carry passed into law in Ohio. With that accomplished, our mission became to refine the concealed carry law and to expand and preserve the rights of all gun owners in Ohio.
For more information, visit: www.ohioccw.org.