RESET Introduces the New RIPR – Rifle Integrated Power Rail
Revolutionizing Firearms!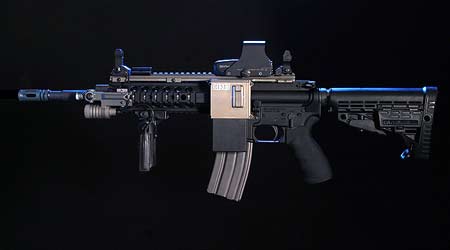 Simi Valley, CA – -(AmmoLand.com)- RESET has been in the business of precision engineering, service and product support for customers such as Hewlett-Packard for over 25 years.
RESET is now venturing into the firearms industry using their electro-mechanical engineering and design skills to develop weapon related products and is introducing the new RIPR for 2010. The RIPR, made in the USA, provides full power on demand! One pack, one rail, one leader!
The RIPR is an integrated rail system that attaches to standard M-1913 Picatinny rails used on the vast majority of rifles, shotguns, submachine guns or machine guns. The co-witness ability with the full length ½" riser accommodates power for the accessories that are employed on the firearm. Power is transferred through the electronically isolated gold plated contact pads that are protected in the rail grooves and spaced to eliminate any possibility of electrical short or physical damage. Data may also be transmitted opening a new avenue for accessory design.
The new RIPR provides a central power source for weapon mounted accessories that eliminates the need for separate cells and excessive battery types. The RIPR battery pack is an M-16 style battery that fits next to the magwell and is operated with standard mag release/reload procedures. The precision placement of the battery pack provides optimum weapon balance for increased control and accuracy. The battery pack far exceeds the capacity of separate cells, increasing the operator's confidence and mission endurance. Since the battery pack provides a common power source, there is no confusion of battery type for different accessories or the need to be weighted down with extra batteries.
The RIPR system facilitates the development of smaller, more powerful accessories, decreasing weight while increasing their performance. The RIPR minimizes external wiring, reducing battle damage resistance and snagging, keeping accessories intact during tactical applications.
RESET is an ISO 9001-2000 Certified company. For more information on the new RIPR, visit www.reset-inc.com. For Sales information, contact Clyde Caceres, Program Manager, RESET Military and Law Enforcement Applications [email protected], office: 850-368-6549, cell: 503-516-7278, fax: 866-638-7169. www.CriticalSafetyEquipment.com.