Winchester Wins 2010 Cabela Lifetime Business Achievement Award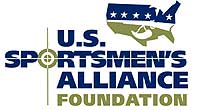 Las Vegas –-(AmmoLand.com)- Winchester Ammunition, one of the world's most widely recognized and respected names in the shooting industry, has been chosen as the recipient of the 2010 Cabela Lifetime Business Achievement Award. The presentation was made today during a Shooting, Hunting and Outdoor Trade Show (SHOT) reception at the Treasure Island Hotel in Las Vegas.
The award was received by Dick Hammett, President of Winchester Ammunition and was presented by Ed Small, president of Big Rock Sports, Tommy Millner, president of Cabela's Inc., and Bud Pidgeon, U.S. Sportsmen's Alliance (USSA) president.
"It is one thing to be recognized for high quality products," said Hammett. "But it is truly an honor to be recognized for our work in protecting conservation. We look forward to continuing this legacy with company's such as Cabela's and groups such as the USSA."
The U.S. Sportsmen's Alliance and its Outdoor Business Council created the award in 2006 to honor the Cabela family's dedication to protecting outdoor sports, including hunting, fishing, and trapping. It is presented to companies that demonstrate the same passion and commitment to protecting America's outdoor heritage as the Cabelas.
"This is our way of honoring the Cabela family and other leaders such as Winchester in the outdoor business community for their efforts to defend our rights," said Pidgeon.
Winchester, founded in 1866, is one of the nation's largest and oldest producers of ammunition. For more than 140 years, the name "Winchester" has come to mean many things to many people. To most folks it's meant ammunition and the Gun that Won the West. For many others, however, it also rekindles images of fine hand tools and cutlery, fishing tackle and flashlights.
For years Winchester Ammunition has proven a dedicated supporter of conservation. Its support of USSA's Outdoor Business Council, a coalition of businesses dedicated to protecting outdoor traditions, has made a large impact on hunting and shooting programs from coast to coast. Winchester has also been a key supporter of the Trailblazer Adventure Program, which has introduced over 900,000 youth and their families to outdoor pursuits such as hunting, fishing, trapping and shooting, since its inception in 2001.
Click here to watch a video describing the Cabela Lifetime Business Achievement Award and the history of Winchester Ammunition.
Cabela's, known as the World's Foremost Outfitter, has grown and prospered from simple beginnings to become the world's largest direct marketer, and a leading specialty retailer, of hunting, fishing, camping and related outdoor merchandise.
For more information about Winchester Ammunition, visit www.winchester.com.
The U.S. Sportsmen's Alliance is a national association of sportsmen and sportsmen's organizations that protects the rights of hunters, anglers and trappers in the courts, legislatures, at the ballot, in Congress and through public education programs. For more information about the U.S. Sportsmen's Alliance and its work, call (614) 888-4868 or visit its website, www.ussportsmen.org.