Beretta Adds Carbine Kit for U22 Neos Pistol
Expands Versatility of Product.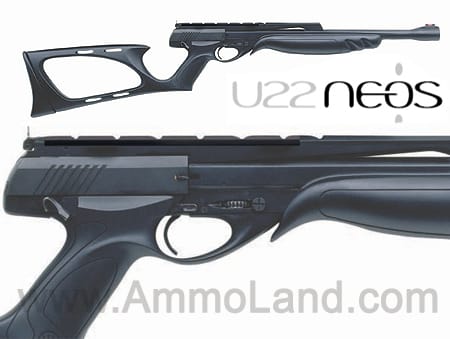 ACCOKEEK, MD –-(AmmoLand.com)- Beretta U.S.A. recently introduced its new U22 Neos Carbine Kit, adding another level of performance and modularity to its U22 Neos pistol product line.
The new carbine kit, which is now shipping to dealers and distributors, is ideal for target shooting and for hunting small game.
According to Gabriele de Plano, Vice President of Tactical Marketing at Beretta USA, the addition of this carbine kit further enhances the versatility of the U22 Neos by allowing the user to transform the pistol into a handy plinker carbine or lightweight camp gun. The kit may be disassembled for easy and compact transportation.
The U22 Neos Carbine Kit includes a barrel/fore-end/top rail assembly and a stock unit that easily replaces the pistol's barrel and grip using the supplied multi-purpose tool. A TRUGLO™ orange fiber optic front sight is standard, as well as a fully adjustable aperture rear sight, to provide fast target acquisition. Both sights are removable and replaceable. The barrel features a built-in machined aluminum Weaver™-style rail that allows mounting of optics using standard mounts. The stock features a rubber butt plate, as well as attachment slots for future accessories. Every U22 Neos pistol and carbine may be accessorized with a complete line of products.
The Kit is also approved for sale in California.
Beretta, established in 1526, is the oldest industrial dynasty in the world tracing its roots through 16 generations of continuous family ownership. Firearms bearing the Beretta name have been sold for almost 500 years. Beretta USA Corp. was founded in 1977 and supplies the standard sidearm to the U.S. Armed Forces. Today, Beretta manufactures, distributes and markets a complete line of firearms, accessories and apparel. Beretta also owns and operates six retail Beretta Gallery stores worldwide. For additional information, visit www.berettausa.com.