Second Amendment March Attendees Please RSVP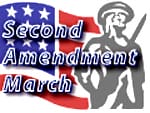 Delton MI –-(AmmoLand.com)- We now have an RSVP form on our website that allows our supporters to let us know if they plan on attending their state march, the national march, or both.
This information will help us greatly in determining how many attendees to expect, additional resources that we may need to secure, and how many hotel rooms we should block off.
We have created the form to require only a minimal amount of information. However, the more information you provide to us, the better we can serve you.
Rest assured that we value your privacy, and this information will not be shared with ANYONE outside of the Second Amendment March organization or our event planning partner, One Step Promotions.
To RSVP now, please go to http://www.secondamendmentmarch.com/rsvp
About:
The mission of the Second Amendment March is to galvanize the courage and resolve of Americans; to petition our elected officials against establishing anti-gun legislation; and to remind America that the Second Amendment is necessary to maintain our right to self defense. Visit: www.secondamendmentmarch.com