SunBuster's Carl Bernosky Wins High Civilian at NRA's Camp Perry
FARMINGDALE, NY –-(Ammoland.com)- Competing at the NRA National Match held at Camp Perry, Ohio, World Champion Shooter, Carl Bernosky won High Civilian in the High Power Rifle Championship category.
The match, shot over a course of four days tests competitors shooting abilities in the standing, prone or sitting position. The distances for the course of fire are 200 yards standing position, 200 yards of rapid fire sitting, 300 yards of rapid fire in the prone position and 600 yards of slow fire shot prone for a possible grand score of 2400. Carl topped last year's score of 2386-125x by shooting a 2395-140x despite dealing with Lake Erie's fluctuating weather and the constant threat of showers.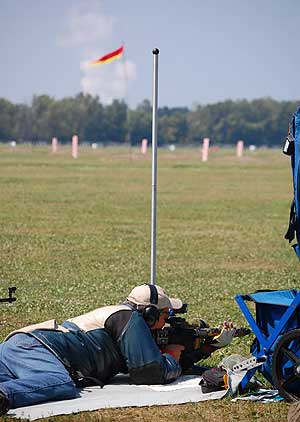 When Carl's not competing in title matches as a top contender or representing the industry shooting at venues, he can be found in Pennsylvania, building customized rifles for shooting enthusiasts worldwide.
Knowing the importance of having high quality equipment is critical in precision shooting; Carl wears SunBuster Sport Enhancement Eyewear. "When I'm shooting downrange at targets I use the Pink Vermillion lenses because they sharpen the contrast of the bright white targets and when I'm scoring targets, I switch out my lenses to the Crimson Brown to provide my eyes with a rest from the intensity of the sun.
This year, I added SunBuster's prescription patented inserts to my glasses with the bifocal location at the bottom of the lens and the top was set up for arm length to get the focal length for the sight radius." Steve Asman, SunBuster's president said.

"Shooters like Carl recognize how comfortable our interchangeable eyewear is for all day use and as lighting conditions change and affect shooters ability, SunBuster ColorCorrect lenses make the difference. Carl's headed to the World NRA Action Pistol match in October and we'll be following him closely."
SunBuster has designed The Maverick and The Dude, two lightweight frames specifically designed for the shooter. Both models provide a comfortable fit for all-day wearing. Each model includes an interchangeable lens system of five lenses scientifically created to enhance and maximize the shooter's ability to perform under different lighting and target presentations in competitive shooting.
The first lens system is the Pistol/Indoor system and the second is the Shooting/Hunting system. Each system offers a patented, lightweight, rimless insert, which sits behind the lens, available in a wide range of prescriptions. Additional custom colored lenses are available to add to either of the systems for enhanced levels of shooting.
To see why others are making the switch to SunBuster's Sport Enhancement Eyewear (S.E.E.) contact: 866-786-2878 or E-mail: [email protected] Web site: www.sunbuster.info. Media members interested in field-testing any of the SunBuster products for editorial review should contact Lisa G. Cinquino of Whistle Communications at [email protected], or call (203) 881-8381.