International Military Antiques (IMA) Offers an Alternative for Machinegun Collectors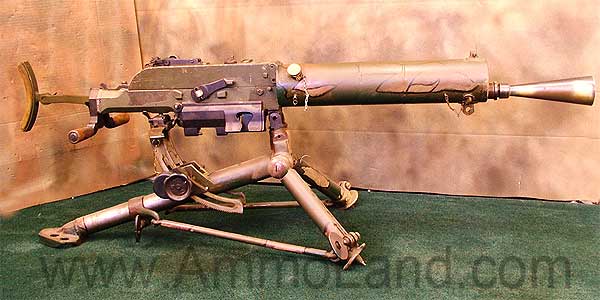 Michigan –-(Ammoland.com)- Owning a piece of history is something special.
Owning a piece of history that is actually a machine-gun requires a lot of special paperwork and hassle.
The alternative is to get a historic item that doesn't actually fire. While that might seem like half the fun is missing, think of half the fun you get for having a fantastic display item – one that is generally legal to own and still looks quite impressive.
International Military Antiques (IMA) is one of the premier sellers of such historical items, as well as other unique oddities and collectibles. We talked to owners Christian and Alexander Cranmer about their business, how they got started and what the future might hold for collectors. www.ima-usa.cm
FirearmsTruth: How did your company get started in the business of selling display machine guns?
Christian Cranmer: IMA started in 1981 as the U.S. retail selling arm of our British wholesale company, Fire-Power International Ltd which was founded in 1967. FPI purchased military surplus from third world governments and sold to European Dealers initially mostly Germany. Most of the materials, at this early stage, were rifles and handguns with some militaria (bayonets, swords and accouterments), but a few years later Machine Guns were added to the menu principally because the selling governments wanted to include them in their sale offers. Initially, IMA dealt only in the Militaria side, not adding the Firearm parts until 1990. U.S. Federal Law prevented the importation of receivers (to use an auto analogy; the "engine block" of the MG) so we broke the weapons into parts for importation leaving the "engine block" in back at FPI in England. Supply was initially strong but sales of these spare parts for existing weapons soon were satisfied so another avenue needed to be found to move this material.
This led to the development of the "Dummy Gun," which is essentially a look-alike display inert weapon but constructed with mostly original parts. The original parts are then fitted onto a solid aluminum inert receiver which makes a fantastic display but is totally inert and harmless.
FirearmsTruth: There have been many parts kits on the market, but how do you ensure that what you're selling won't get your customers in trouble:
Alexander Cranmer: IMA continually created new models and submitted them to the BATF Technical Branch for evaluation and approval. At that time, the head of tech services would issue a letter confirming that a weapon rebuilt in the way our sample was presented was "NO LONGER DEEMED A FIREARM" thereby permitting open sale.
We submitted dozens of weapon systems for which we each got a letter and is still the basis for not only our Display Gun sales, but the majority of the US Dummy Gun Market.
FirearmsTruth: To be clear, can you describe exactly what is a display machine gun?
Alexander Cranmer: A vintage display machine gun is like a Model T Ford that has a solid engine block, they both look the part but neither will ever run. The reason a display machine gun looks "the business" is because it is constructed from original serviceable parts. However, what makes it a display as opposed to an operational gun is that we replace the most crucial part, the receiver (or engine block), with a new made aluminum receiver or an original de-militarized ("demilled") receiver.
A demilled receiver has been flame cut into multiple pieces (according to BATF guidelines). We then re-weld this cut receiver into a "lump". We call it a lump because there is no internal space for any parts whatsoever, rendering it completely inert and only useful for display. It should also be noted that when a receiver is cut in multiple locations some original steel is lost. This means that when the receivers are "lumped" they are generally slightly shorter. This additional step makes it virtually impossible to engineer our lump receivers to working condition. Today, due to recent import laws, even the barrels have been destroyed or replaced with an inert rod or tube. In short, it would far be easier to build a MG from scratch than to attempt to reactivate one of our Display Machine Guns. Hypothesize for a moment that it was possible to convert a display machine gun to working condition, well, anyone with the required skills, tools and materials would be able to make a far more lethal machine gun in a fraction of the time for a faction of the cost. Lets go back to the automobile analogy, if you had the skills to build a race car, would you build a 2010 Ferrari or a 1920 Model T Ford?
FirearmsTruth: What have been some of the most popular and desirable items?
Alexander Cranmer: German WW2 Machine Guns of the Nazi era are the best sellers, followed by U.S. and British. In 1996 we offered German MP 44 Parts Sets for $395 and "Display MP 44s" at $495. Today an MP 44 Display Gun easily brings $3,500. Similarly MP 40 parts sets were sold by IMA in 1993 at $325, today the going price for an MP 40 parts set price is well over $ 2,000. We have a saying that there are Nazi Collectors and there are Collectors of everything else. It is probably a sense of "dancing with the Devil" as, ironically, some of the biggest Nazi memorabilia collectors in the world are Jewish. Also, to be fair, the Germans are and were master engineers. The majority of the German WWII guns & equipment are simply superior in design and quality than comparable allied items.
FirearmsTruth: For a long time it wasn't even legal to own a non-firing machine gun in many states, but with a few exceptions these are generally legal today. Do you think the laws controlling the firing guns make these display weapons so popular?
Alexander Cranmer: Different States and municipalities have different regulations but, in general, the reason for non-gun or Display Guns popularity is that legal ownership of a working machine gun, although possible in some States (not all), requires so many security measures and responsibilities that an Display Inert Original item without complications seems highly preferable in comparison. Also, the availability of registered fully automatic machine guns is very limited and or owning and transporting a converted semi- auto MG gun drives up the cost significantly, meaning its far more affordable, easier, and safer to purchase a display inert machine gun.
FirearmsTruth: Since 2005 there has been a ban on the importation of parts kits to the United States. Does this mean there is only so much more stuff out there?
Alexander Cranmer: Actually, there is not a current ban on Machine Guns Parts Sets, however the 2005 regulation you refer to concerns barrels. When the Justice Department took over the BATF from Treasury their lawyers reviewed all existing Laws and decided that the clause in the 1968 Gun Control Act denying importation for "short" Revolver Barrels for Saturday Night Specials could also be interpreted to include Machine Gun barrels. It is not what the Law says, or is intended to say, but it is the current interpretation of the present Justice Department and Administration. There are currently moves to have this struck down in court, we are told, but from IMA's point of view we have no problem constructing a Display Machine Gun using a demilitarized or deactivated barrels in an inert display item.
Additionally, the Government is using various other Laws to impose import bans on Chinese and ex Soviet Weapons and even American Returned Goods that was introduced in the 1950s to prevent handguns made by Smith & Wesson and Colt for example, that had been supplied to U.S. Allies at no cost (Lend/Lease Program) being re-imported to compete with those manufacturers in the post war domestic market. It is now 65 years since WWII ended and this Law prevents one importing a WWI Springfield bolt Action Rifle made in 1903, over 100 years old, a rifle possibly carried by our Grand Fathers or even Great Grand Fathers. This appears to be utter madness and is a slap in the face of every Veteran who has ever served his country. This particular rifle even predates the Model T Ford!
FirearmsTruth: Will demand eventually tap out the supply?
For IMA, and most WWII collectors, the end of an era is in sight. Even the Third World is now almost empty of the desirable WW1 and WW2 materials which have become so popular in the last 20 years probably because of films like Saving Private Ryan and Band of Brothers. Today the Government offerings, such as they are, consist of weapons made in the 1960s/1970s and 1980s, which have little romantic association. The vast majority of military surplus now is automatically destroyed, regardless of value, in accordance with various United Nations directives. The bright side is that this means that every vintage military antique in anyone's collection goes up in value every day.
Peter Suciu is executive editor of FirearmsTruth.com, a website that tracks and monitors media bias against guns and our Second Amendment rights. Visit: FirearmsTruth.com