Out of Bounds Creative Celebrates 100 Year Milestone of John M. Browning's Workshop & Innovation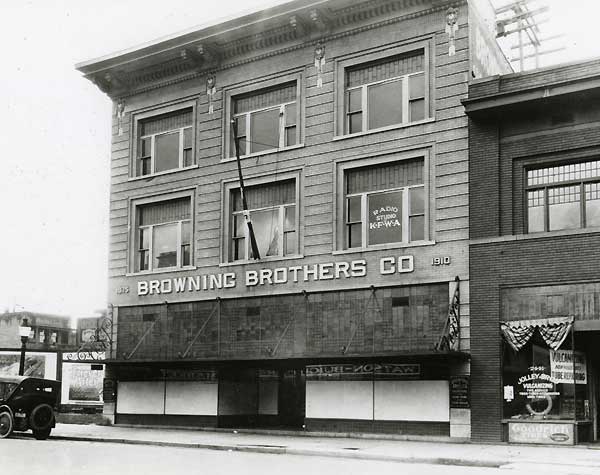 Ogden, Utah –-(Ammoland.com)- The workshop once occupied by the renowned innovative gun designer John M. Browning has reached a significant hundred year milestone.
The legacy of inventive operation continues as Out of Bounds Creative (OBC), a full-service communications firm and Alvey Media Group, now channels the creative ingenuity spirit of Browning in the space to build multi-million dollar brands in the outdoor industry.
A century ago ideas that shaped the hunting and shooting industry were generated in the building on 2447 Kiesel Ave in Ogden. Since Browning used the space back in 1910 the building has housed everything from a law office to Ogden Utah's first radio station. The building has come full circle and in 2000 the building was renovated and restored.
OBC is celebrating a decade in the space this month. They will hold an open house and Halloween party on October 29, 2010 from 4 to 8 p.m. to honor and celebrate the occasion.
In 2009, the third floor of the building was transformed into a contemporary loft that OBC now occupies. Browning's creative character remains prevalent as the original floor, exposed brick and an old gun cabinet from the building's inception are essential elements in the space. Many of the pieces recovered from the building are now on display at The John M. Browning Museum located two blocks away at Ogden's Historic Union Station.
About:
Out of Bounds Creative was founded in 2001 by three partners who had previously managed the in-house creative agency that services Browning and Winchester — arguably two of the most powerful brands in the hunting and shooting industry. They bring a forward-thinking brand mentality and guerrilla marketing strategy to an industry defined by conservative and traditional thoughts. They service a roster of national multi-million dollar clients in the outdoor sporting goods field. Visit: www.outofboundscreative.com