Pro-Gun Election Season Is Here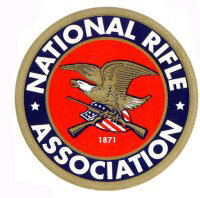 Charlotte, NC –-(Ammoland.com)- NRA-ILA Grassroots staff and volunteers have been hard at work to elect pro-gun candidates across the country. Read their stories below and see what they are doing to defend the rights of all law abiding Americans.
Wisconsin
Last month, NRA-ILA Grassroots Coordinator Brent Gardner teamed up with NRA-ILA EVC Mike Kawczynski, NRA-ILA Campaign Field Representative(CFR) Nate Nelson, and NRA-ILA Wisconsin State Liaison Jordan Austin at NRA-ILA's booth at the Wisconsin State Fair. During this event, NRA-ILA staff fielded many important questions from gun owners, as well as signed up new members and recruited over 100 new volunteers that will aid in critical electoral efforts on behalf of pro-gun candidates across Wisconsin.
In the coming weeks, NRA Volunteers throughout Wisconsin will be knocking on doors, making phone calls, and putting up yard signs in typical election year-fashion in support of Scott Walker for Governor, as well as other NRA-PVF endorsed candidates. NRA members in Wisconsin are more than ready to secure victory for the Badger State on November 2nd!
Washington
Recently, NRA-ILA CFR Caleb Giddings and NRA-ILA Grassroots Coordinator Seth Waugh, traveled throughout the state of Washington promoting NRA-PVF endorsed candidates Dino Rossi (U.S. Senate), and Jaime Herrera (WA-03). With Labor Day weekend being the "official" start to campaign season, NRA-ILA staff headed to Tacoma and Olympia to hold meetings and talk to NRA members about the importance of becoming involved in NRA's efforts to elect pro-gun lawmakers in Washington state.
Ohio
From Washington state to the intense battleground state of Ohio, Seth was then joined by the small army of Ohio CFRs: David Conte, Nate Lance, and Michael Land as they conducted election Volunteer Kick-Off events across the state with the first stop in Grove City.
There, NRA-PVF endorsed candidate Steve Stivers (OH-15) addressed NRA members, thanking them for their support and encouraging them to be active now through Election Day. Next up was a stop in Westerville for another campaign kick-off event for NRA-PVF endorsed incumbent Pat Tiberi in Ohio's 12th district. From Central Ohio, NRA-ILA staff then headed to Medina, where NRA-PVF endorsed candidate for Congress in Ohio's 13th congressional district, Tom Ganley spoke with NRA members about his support for the Second Amendment and his need for help from NRA members to make him the newest pro-gun member of Congress from the state of Ohio. Finally, the Buckeye state tour wrapped up in Ohio's 1st district at the Butler County Sportsmen Rifle and Pistol Club, in support of NRA-PVF endorsed candidate Steve Chabot.
The Show-Me-State showed that the NRA is in town and ready to work to elect pro-gun candidates! At the 2010 NRA Campaign Kick-Off event in Arnold, over 140 Missourians attended the event at Top Gun Shooting Sports to hear how they can become even in this year's critical mid-term elections. NRA-PVF endorsed candidate for Missouri's 3rd Congressional, District Ed Martin (R), attended and spoke about the importance of protecting the Second Amendment for Missourians and for all Americans. Nearly 50 attendees signed up for the FrontLines™ Volunteer program and are excited to get to work. Special thanks goes to EVCs Bob Sliger and Gene Dultz and Top Gun Shooting Sports for making this event such success!
About:
Established in 1871, the National Rifle Association is America's oldest civil rights and sportsmen's group. Four million members strong, NRA continues its mission to uphold Second Amendment rights and to advocate enforcement of existing laws against violent offenders to reduce crime. The Association remains the nation's leader in firearm education and training for law-abiding gun owners, law enforcement and the military. Visit: www.nra.org