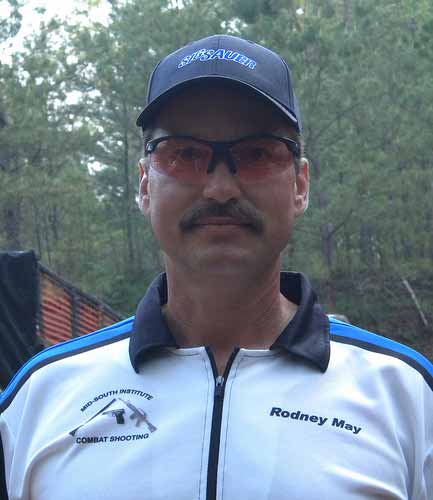 Rodney May of Team SIG Takes Home Third Place in Limited Division at 2010 Tennessee Sectional Championship

EXETER, NH -(Ammoland.com)- Team SIG shooter Rodney May secured a third place finish in Limited Division in the 2010 Tennessee Sectional Championship held September 24-26, 2010 in Nashville, TN.
As the reigning 2009 Limited Division Tennessee Champion and 2008 Production Division Tennessee Champion, May decided to spice things up this year and challenge himself by competing in the Limited Division with a production gun.
The match, comprised of 129 competitors, consisted of nine challenging courses of fire with over 80 pieces of steel.
"In a little more than two weeks I'll be competing at the USPSA Nationals in Las Vegas as part of a super squad team. I really wanted to challenge myself and practice for that upcoming match by using a production gun in the Limited Division here at the Tennessee Sectional," commented May. "I think any shooter worth his salt wants to be challenged and this was a great match with quality stages throughout that really made you fight for points."
A native of Tennessee, May locked up his third place finish amongst a field of 50 competitors in the Limited Division with a score of 1059.8250, or 92.69%. May finished in the top five in nine of the stages and came in first in two of the other stages.
May will be competing next at the Mississippi 3-Gun at the Cross Roads Sport Shooting Association in Glen, MS on October 8-10, 2010.
To follow Rodney May and Team SIG, click on the Team SIG SAUER Website .
About Rodney May:
While working as a Nuclear Technician, Rodney May started his shooting career as a hobby. Impressed by his shooting skills, Mid-South Institute of Self-Defense Shooting approached him in 2003 to join their ranks. For the past seven years he has served as a Firearms Instructor, teaching Navy SEALS, Army Special Forces and various Federal Agencies. May specializes in 3-Gun style competitions and has recently won the Alabama 3 Gun Match Overall in the Limited Division and placed 2nd in the Production Division at the USPSA Area 6 Championships. May is a Grand Master Production Shooter and is in the process of becoming a Grand Master Limited Shooter.
About SIG SAUER:
SIG SAUER, Inc. is the largest member of a worldwide business group of firearms manufacturers that includes J.P. Sauer & Sohn and Blaser GmbH in Germany and Swiss Arms AG in Switzerland. This global network of companies gives SIG SAUER a world-class firearms knowledge base, unparalleled design expertise, and extensive manufacturing capacity, enabling the company to respond quickly and effectively to changing market conditions and the needs of its military, law enforcement, and commercial markets worldwide. SIG SAUER is an ISO 9001: 2000 certified company with over 370 employees. For more information on SIG SAUER or any of its products, or the SIG SAUER Academy, log on to www.sigsauer.com.