Armed American Radio Continues Growth Across America Adding Orlando, Florida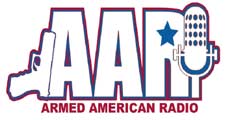 Atlanta GA –-(Ammoland.com)- ARMED AMERICAN RADIO continues its unprecedented growth across America!
Beginning this weekend, Sunday April 17th, Mark Walters and the United States Concealed Carry Association bring AAR to Orlando, Florida!
Atlanta GA- April, 12th/Delta Media, LLC- The Armed American Radio Network hosted by Concealed Carry Magazine writer and co-author of the highly acclaimed book, Lessons from Armed America, Mark Walters is proud to announce the addition of News Talk 660 AM, WORL Orlando, Florida to the fastest growing, nationally syndicated, pro-self defense radio broadcast in America. WORL will air AAR in its entirety, live from 8pm-11pm ET every Sunday evening beginning this weekend, April 17th.
"The Florida market is a natural fit for the Armed American Radio network with one of the most sought after CCW permits in the nation. Florida pioneered the right to carry license back in 1987 and it was only a matter of time before AAR invaded the Sunshine State. Beginning this weekend from 8 pm-11 pm, AAR fans in the greater Orlando area will be able to fill their prescription for freedom by joining the Armed American Radio network live every Sunday for the full three hour dose! Florida holds a special place in my heart.

It's where my children were born, it's where I spent a large part of my adult life and it's where I used my own firearm to stop an impending attack against myself. The growth of the show has been incredible and with its hard-hitting talk about the right to carry a concealed handgun, Armed American Radio is now the broadcast home for millions of Americans who have made the decision to carry a firearm for their personal defense", said host Mark Walters.
In the last three weeks, Armed American Radio has exploded across the Florida markets adding affiliates in Tampa/St. Pete, Sarasota, and Orlando to join existing coverage in Delray/West Palm Beach, Ft. Walton Beach/Destin/Pensacola and the Gainesville areas. In addition, the show has added affiliates in Sedalia, Mo, Bryan-College Station, TX, Reno, NV, San Antonio, TX and Pascagoula, MS during the same period.
Armed American Radio is one of the fastest growing talk radio shows in America, certainly the fastest growing pro-gun show in the nation.
AAR airs live nationwide every Sunday from 8-11pm ET, 5-8pm PT from the West Palm Beaches of South Florida to the North Slope of Alaska.
For more information and to schedule interviews with host Mark Walters,
Please contact:
Mark Walters
Host
Armed American Radio Network www.armedamericanradio.com
[email protected]
386-AAR-Mark (386)-227-6275
Armed American Radio is syndicated on the Salem Radio Network. For media kit information, please visit www.srnonline.com/talk/talk-walters.shtml
About:
Armed American Radio is the most free-thinking, politically incorrect radio station in the U.S.A. We discuss liberty, self-defense, weapons, family, friends, and life. Visit: www.Armedamericanradio.org