3 Gun Nation Division Races Heat Up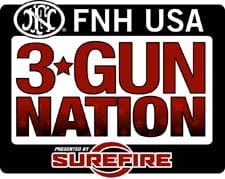 USA –-(Ammoland.com)- With $25,000 on the line, competitors have been jockeying for position, and a few have even jumped divisions, to make a run at the Inaugural 3-Gun Nation Divisional Championships, presented by Hornady.
Each of the five 3GN divisions has a $5,000 cash prize up for grabs, totaling $25K for the season. But with six points events remaining, there is still a lot of shooting to be done, with arguably the toughest event in the sport looming—the MGM Ironman.
Daniel Horner used his division win at the Blue Ridge Mountain 3-Gun to rocket himself up the Tactical Optics leader board, overtaking Taran Butler, now in second. Robby Johnson's second place Blue Ridge finish moved Horner's former AMU teammate into third place, followed by Rob Romero and Rustin Bernskoetter.
MGM's Travis Gibson continued his steady improvement, earning a spot in sixth place in Tactical Optics, followed by Ben Fortin, Tyler Payne, Scott McGregor and Jamie Foote.
In Open, everyone is chasing Clint Upchurch, who's second year of competitive 3-gun has become a complete breakout performance.
James Darst sits in second, followed by FNH USA's Tommy Thacker, Brian Butcher and Kay Miculek.
Notable Open absences are Jerry Miculek and Mike Voigt, who when they pick up their third matches are expected to shake up the Open standings.
In Heavy Metal Optics, one man stands alone. SureFire's Barry Dueck is currently the only qualified competitor with a strong score of 292.03. However, Adam Popplewell is expected to challenge Dueck for the title.
In Tactical Irons (Limited), only two competitors currently have enough scores, with Kurt Miller holding a commanding lead over Brian Vaught, a non-sponsored shooter from Kentucky.
Vaught's training partner, and brother-in-law, Bryan Ray, tops the Heavy Metal race, one that is shaking up to be very interesting coming down the stretch. With Ray not expected to attend every match, JJ Johnson and Trapr Swonson, sitting second and third, respectively, along with Joe Satterfield, should have opportunities to pick up division wins without having to be Ray. That alone could set Heavy Metal up for a photo finish at the FNH USA Championships in November.
The next event on the FNH USA 3-Gun Nation Tour, Presented by SureFire, is the MGM Ironman, June 5-11, in Parma, Idaho. Along with 3GN points, the Ironman will also host a 3-Gun Nation Shoot-Off, with the winner taking home a $5K prize from Warne Scope Mounts. For more information, go to www.3GunNation.com.