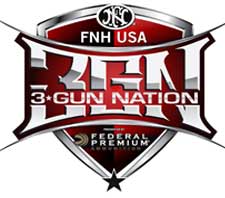 USA –-(Ammoland.com)- 3-Gun Nation is proud to announce the advent of yet another new competition series—the 3-Gun Nation (3GN) Regional Championships.
Part 3GN Pro Series, part natural-terrain/outlaw-inspired stage design, the 3GN Regional matches will comprise everything one can expect to see in the sport of 3-gun.
These four events will be open to any 3GN member, with a one-time membership fee of $25 applied to any non-member who would like to shoot.
The four venues chosen for the inaugural 3GN Regional Series are Clinton House, in South Carolina, the Rockcastle Shooting Center, in Park City, Kentucky, a new range facility outside Las Vegas, and Copperhead Creek Shooting Club, in Marble Falls, Texas, located near Austin. All four ranges host 3GN Club Series events, a requirement for hosting 3GN Regionals, and three of the four venues are new locations for major 3-gun matches.
Fast, burn-'em down, Pro-style stages will be featured alongside technical, natural terrain courses of fire with long-range target presentations. 3GN Club Series Classifier stages will also be included in the mix at each event. Led by 3GN Club Series Director Charles Sole (who has perfected well-rounded match presentations at Tarheel 3-Gun in North Carolina) and 3GN Club Series Co-Director Tennille Chidester, the 3GN Regional Championships will present 3GN's take on the most complete matches in all the sport.
"These matches are designed from the ground up for the competitor experience," Sole said. "Our mission is to give shooters everything they could possibly see in the sport of 3-gun, with customer service held at a premium."
Better yet, an updated 2014 3GN Club Series Rules set will govern all four Regional Championships. This means that the rules, safety procedures and scoring will be exactly the same at each of the four events. Each 3GN Regional event will feature full online registration, powered by RangeLog, online match administration and real-time scoring.
The Regional matches will run on a two-day format, with approximately 200 competitors competing for 3GN's goal of $150,000 in prizes per event. To kick start the program, Cheaper Than Dirt! has signed on as the title sponsor of the 3GN Regional Championships, pledging $100,000 in product, to be distributed in sums of $25,000 worth of product per event.
Stag Arms also recently signed on as a 3GN Regional sponsor, with five 3G rifles to be awarded on the prize table at each match. Meanwhile, Leupold Tactical Optics is sponsoring the series with five scopes per match.
HiperFire Triggers also recently signed on for the 2014 Regional Championships and have donated 60 trigger units (15 per match). Barnes Precision Machine extended its 3GN partnership in 2014 by pledging 12 rifles and 12 full uppers (three each, per match) to the 3GN Regional Championships. And of course, no 3GN event would be complete without MGM steel target presentations, as MGM is the official and exclusive target supplier of 3-Gun Nation.
With the advent of the 3GN Regional Series, all future 3GN Divisional races will now take place only at the 3GN Regional Championship matches. This means that the Semi-Pro, Lady and Junior divisions will all be ran exclusively at 3GN Regional matches. The equipment Division races, as well as the Amateur division, are being discontinued at this time.
This streamlined presentation of 3GN series is expected to raise the bar for competition throughout all of 3GN's programs. Moreover, if a competitor isn't interested in competing in a series, individual 3GN Regional Championship matches can be shot—just like any other major match in the country. Just sign up as a 3GN member, register for the match (more info on registration to be released soon), and come out and enjoy one—or all—of what are sure to be the hottest ticket in all of 3-gun in 2014—the 3GN Regional Championships.
2014 3GN Regional Series
Southeast Regional Championship – March 1, 2 – Clinton, SC
West Regional Championship – May 17, 18 – Las Vegas
Midwest Regional Championship – Aug 16, 17 – Park City, KY
Southwest Regional Championship – Oct. 11, 12 – Marble Falls, TX
Visit 3-Gun Nation to learn more: www.3gunnation.com