Millennium L 220 Double Ladder Treestand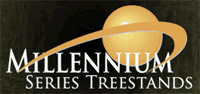 Pearl, Mississippi –-(Ammoland.com)- The Millennium L220, an 18-foot double ladder treestand with a durable powder coat finish, is designed with your comfort and safety in mind.
The ComfortTech seats can accommodate two occupants.
And make it easy for you to enjoy your day afield whether you are hunting alone or sharing the experience in the great outdoors with someone else.
Millennium's fully adjustable padded shooting rails and folding foot rests give you the comfort and confidence to make that perfect shot every time.
The L220 is sure to follow the success of the L200 as a favorite for two-person hunts. The L220 has all of the standard features of the L200, but with a platform that is twice as big as the L200 and fold-up ComfortTech Seats.
As the seasons change, concealment grows more difficult with less foliage, and game becomes more wary by the day, but the L220 is height adjustable allowing you to adapt to those changes. Simply remove one or more of the ladder sections to customize your height from 7 to 18 feet.
With a strong steel construction and the easy line up ladder with its double rail ridge, the Millennium L220 guarantees a quiet and easy set up. Not to mention, the stabilizing strap and TMA certified Full Body Harness included ensures your safety giving your peace of mind throughout your hunt.
This hunting season make sure you are on top of your game with the Millennium L220 Tree Stand. For more information on the Millennium L220, check out www.millenniumstands.com.