How To Win a Knife Fight – Lessons Learned in the Crucible of the Second Amendment
Featuring Sandy Froman, Past President of the NRA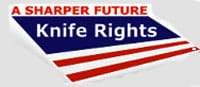 Gilbert, AZ –-(Ammoland.com)- Sandy Froman, past president of the National Rifle Association and one of the nation's foremost Second Amendment activists, will be the keynote speaker at Knife Rights' Second Annual Sharper Future Awards Breakfast to be held June 11th during BLADE Show in Atlanta, Georgia (at the Waverly Renaissance Hotel).
Froman's speech is titled: "How To Win a Knife Fight–Lessons Learned in the Crucible of the Second Amendment"
Besides her continued involvement with NRA as a member of its Board of Directors with a lifetime appointment to the Executive Council, she is a past president and a current trustee of The NRA Foundation. Sandy was also recently elected chairwoman of the
Joe Foss Institute, which is dedicated to promoting and teaching patriotism, public service, integrity and an appreciation for America's freedoms to our nation's youth. Sandy is a highly respected attorney with a private civil law practice in Tucson, Arizona.
Froman didn't shoot her first gun until she was in her early 30's. However, she favored knives from an early age and used her grandfather's pocketknife to whittle balsa wood kite frames into bows and arrows for hunting tomatoes in her mother's garden. Her love for knives was discouraged by her mother, but encouraged 25 years later by her late husband Bruce Nelson, who was a member of the American Bladesmith Society and studied knifemaking with Bo Randall and Dan Dennehy.
Sandy owns a number of highly collectible knives and appreciates them as both tools she uses daily and when she hunts, and as fine examples of American craftsmanship. She believes that rights that are not exercised cease to exist, and so carries her knives as well as her guns, wherever the law allows. Sandy was Knife Rights' first Cornerstone Charter Member and has supported the organization since before it was officially launched in 2006.
Sandy is a passionate, high energy and dynamic speaker who has traveled world-wide speaking in defense of our rights. Those attending Knife Rights' Sharper Future Awards Breakfast are in for a treat. Don't miss this unique opportunity to hear and meet Sandy Froman.
Click here for more about Sandy Froman.
Tickets to Knife Rights' Sharper Future Awards Breakfast are limited, so get yours today before they are all gone. Tickets will NOT be available at BLADE Show or at the door. Buy your tickets NOW! Tickets are only available online from Knife Rights.
Thanks to our sponsors for helping us to recognize the contributions of our award winners.
About:
Knife Rights has quickly grown to become America's largest grassroots knife owners organization. Invest in a Sharper Future. Become a Knife Rights member and make a contribution to support the fight for your knife rights. Visit www.kniferights.org