Armed American Radio Adds The Voice of the Plains to Station List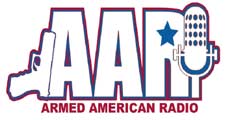 Atlanta GA –-(Ammoland.com)- Mark Walters and Armed American Radio add Salina Kansas based KFRM 550 AM "The Voice of the Plains" to the list of affiliates carrying the nationally syndicated radio broadcast.
Mark Walters and Armed American Radio add their newest affiliate KFRM 550 AM, "The Voice of the Plains" in Salina Kansas to the rapidly expanding list of Armed American Radio affiliates. KFRM will air Armed American Radio every Saturday from 3p-5p CT beginning this Saturday, June 25th.
"This is an exciting affiliate pickup for Armed American Radio. The KFRM signal extends coverage of the Armed American Radio network to virtually the entire state of Kansas during the broadcast. Now listeners in Salina, Wichita, Garden City, Hutchinson, Dodge City, Emporia and the rest of the state can fill their prescription for freedom!" host Mark Walters said.
AAR airs live nationwide every Sunday from 8-11pm ET, 5-8pm PT from the West Palm Beaches of South Florida to the North Slope of Alaska. Each week Mark Walters discusses the right to carry a concealed firearm, training, tips and carry techniques, the politics of the right to bear arms and the responsibility that law-abiding citizens have to carry a firearm for their own defense.
The show blends an entertaining mix of nationally recognized guests with hard-hitting discussion about the right to carry a firearm.
For more information and to schedule interviews with host Mark Walters:
Please contact:
Mark Walters
Host
Armed American Radio Network www.armedamericanradio.com
[email protected]
386-AAR-Mark (386)-227-6275
Armed American Radio is syndicated on the Salem Radio Network. For media kit information, please visit www.srnonline.com/talk/talk-walters.shtml
About:
Armed American Radio is the most free-thinking, politically incorrect radio station in the U.S.A. We discuss liberty, self-defense, weapons, family, friends, and life. Visit: www.Armedamericanradio.org