CCRKBA Applauds Wisconsin Lawmakers For Adopting Concealed Carry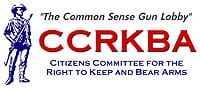 BELLEVUE, WA – -(Ammoland.com)- The Citizens Committee for the Right to Keep and Bear Arms congratulated the Wisconsin Assembly for its 68-27 vote that passed the state's long-sought concealed carry measure, which Gov. Scott Walker has said he would sign.
"Badger State citizens have worked long and hard on this landmark accomplishment," noted CCRKBA Chairman Alan Gottlieb.

"We are delighted that the bill passed with an overwhelming bipartisan majority. Wisconsin was long overdue in this action. Now Wisconsin residents can enjoy the same rights as citizens in most other states. It is a pity, however, that this required a change in control of the state legislature and the governor's office, a fact not lost on gun owners from coast to coast."
Former Gov. Jim Doyle, a Democrat, had twice vetoed concealed carry legislation adopted by state lawmakers who would not override either veto, due to party partisanship.
"Not surprisingly," Gottlieb noted, "gun prohibitionists have been predicting all kinds of calamity if concealed carry comes to the state. As we have seen in other states where such common-sense personal safety laws have been adopted, we're confident that the good citizens of Wisconsin will soon prove those predictions were unfounded.

"It is disappointing," he observed, "that some church leaders continue to criticize the legislation, and encourage fear of legally-armed citizens. They must have forgotten the victims of the March 2005 shooting in Brookfield during an evangelical church meeting, who could not defend themselves against Terry Ratzmann. Perhaps they also forgot that an armed private citizen, serving as a security volunteer, stopped a gunman from opening fire at the New Life Church in Colorado Springs in 2007.

"Wisconsin's new law will enhance public safety," Gottlieb concluded. "We have faith in Wisconsin citizens, who are no different than Americans in other states who already enjoy full exercise of their right to bear arms. This leaves only Illinois in the firearms rights dark ages, but we're patient." [and for all practical reasons New Jersey – AmmoLand]