Top Shot Season 3 Premieres Tuesday at 10pm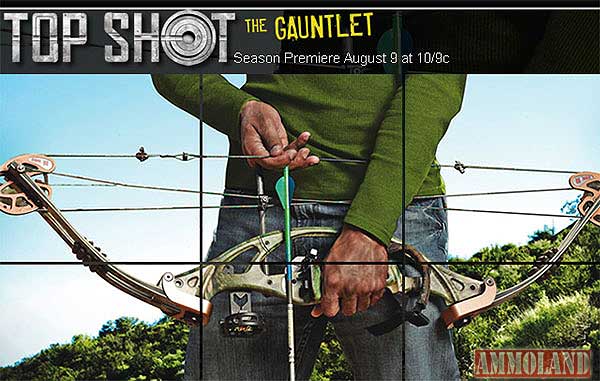 USA –-(Ammoland.com)- HISTORY¹s hit competition show is back with a gauntlet of all new extreme challenges and eager marksmen ready for a shot at greatness.
16 competitors chosen from across the country vie for the $100,000 prize and the title of TOP SHOT.
A national revolver champion, two homeland security agents, a former Navy SEAL, firearms instructors, a restaurant owner and a camp director must demonstrate their skill using the most diverse weapons, from state-of-the-art firearms to rocks. This season also stars some of the biggest weapons ever featured on TOP SHOT such as the Gatling and Hotchkiss Mountain Guns. Colby Donaldson returns as host for the competition that takes a page from history.
The 14 marksmen and two markswomen were carefully selected from thousands of applicants to participate in this season of TOP SHOT. The contestants include a national revolver champion, two homeland security agents (who also happen to be close friends), a former Navy SEAL, two cops, a nurse and several firearms instructors. Two of the contestants, a restaurant owner and Christian camp director, are self-taught.
The shooters will have to display mastery of weapons from all eras of human history, from the most primitive (rocks) to the most sophisticated tactical firearms. Contestants will employ some of the biggest munitions ever featured on TOP SHOT, including the Gatling gun, the Hotchkiss mountain gun and the CornerShot. In addition, they must endure extreme physical tests to stay in the game. High-speed HD cameras capture the skillful execution of each test in extreme slow-motion.
The premiere of season three begins with a gauntlet of extreme challenges. 16 marksmen immediately pair off and duel with one of the world's biggest handguns. Teams are then divided into winners and losers before facing off in a surprise military challenge. In the elimination challenge, two competitors get the ride of their life on a horse-drawn stagecoach as they shoot to stay in the competition.
Season Three Shooter Bio's
Alex Charvat
Age: 38
Hometown: Conifer, CO
Occupation: Engineer
As an engineer, Alex Charvat can understand and adapt to the intricacies of almost any weapons system. "I like to shoot because I like the mechanics of it," he says. "It's like a big puzzle." His passion for shooting runs so deep that his oldest daughter is named after Annie Oakley. A country boy at heart, Alex lives with his family out in the woods and doesn't have cable, so he'd never seen a single episode of Top Shot. But Alex doesn't need to know what's in store to have faith that he'll shine. He believes his ROTC background and hunting experience give him an edge over the competition.
Amanda Hardin
Age: 33
Hometown: Birmingham, AL
Occupation: Nurse/Real Estate Agent
"One of my favorite smells is gun oil," says Amanda Hardin. A brash, outspoken nurse and real estate agent, she's a firearms instructor who shoots in International Defensive Pistol Association (IDPA) and United States Practical Shooting Association (USPSA) matches. Recently, she also took up sporting clays. At 5 feet 6 inches and 110 pounds, Amanda may be easy to underestimate, but she can compete with the sharpest of shooters—even in a pair of stilettos. Amanda describes herself as an expert shot with pistols and semiautomatic rifles. She can also reload and field-strip a pistol faster than anyone she knows.
Billy Rogers
Age: 33
Hometown: Calabasas, CA
Occupation: Restaurant Operations Manager
Being on Top Shot is so important to Billy Rogers that he and his wife agreed he would miss the impending birth of his son in order to compete. Originally from Virginia Beach, this California restaurant operations manager is charming, funny and a heck of a shot. You wouldn't think the manager of a business called Hollywood Billiards could hold his own against the pistol pros, but Billy's been training with some of the biggest names in shooting. Recently, the national multi-gun champion Taran Butler entered him in a local match; he placed eighth out of 70 professional shooters. Billy shoots everything from rifles and shotguns to pistols and bows. An inveterate thrill-seeker, he also enjoys surfing, mountain biking and riding his two motorcycles.
Chris Collins
Age: 25
Hometown: Collinsville, OK
Occupation: Firearms Instructor/College Student
Chris Collins believes in his right to bear arms so firmly that he has the Second Amendment tattooed on his arm. While serving in the U.S. Marine Corps for five years, he became familiar with pistols, rifles, assault weapons and even rockets. "I can deploy any projectile you can think of," says this Oklahoman firearms instructor, father of two and student of criminal justice. Chris is an avid archer and practices his marksmanship with blowguns, throwing knives and slingshots.
Cliff Walsh
Age: 40
Hometown: St. Petersburg, FL
Occupation: Airport Driver
Let's get Cliff's biggest accomplishment out of the way: He beat revolver legend Jerry Miculek in the 2009 USPSA Nationals to claim the gold. Not bad for a guy who began competing as a hobby shooter just eight years ago. Only the fourth person to receive the USPSA revolver Grand Master classification, Cliff is a former volunteer sheriff's deputy who says he learned to shoot "by watching and doing." Marksmanship has taken Cliff around the world, allowing him to compete in Ecuador, Brazil, Norway, the Czech Republic and Serbia. Earlier this year, he was selected for the 2011 USPSA World Shoot Team, which will soon be competing in Greece. Cliff means business on the gun range, but he also likes to have fun at his matches, ribbing competitors who take themselves too seriously and, on one occasion, shooting in his underwear. With ancestors who fought in the Battles of Gettysburg and Bull Run, Cliff believes marksmanship is in his blood. "I have at one time or another beat every top revolver shooter in the world," he says. "I know I can beat anyone at any time."
Drew Shprintz
Age: 27
Hometown: Boca Raton, FL
Occupation: Firearms Instructor/Bartender
"If I didn't plan on winning, I wouldn't be here," says Drew Shprintz. Confidence has never been an issue for this brash South Florida marksman. Drew says he lives his life by the 90/10 principle: 90 percent of people love him and 10 percent hate him—and he's just fine with that. He admits to having a big mouth and no filter, describing himself as outgoing, unpredictable, fun and never boring. Although he's never competed in a shooting sport, Drew says that daily practice at the range, training with a Special Forces friend and hunting with a compound bow and rifle have made him the man to beat.
Dustin Ellermann
Age: 27
Hometown: Zavalla, TX
Occupation: Summer Camp Director
A bright and energetic summer camp director, Dustin Ellerman is an easy guy to like—and he aims to please. "I'm from Zavalla, Texas, a small town of 647 people," says this self-taught marksman and avid hunter. "I sure don't want to let them down." Besides shooting pistols and rifles, Dustin is proficient with a compound bow; he also throws tomahawks and knives. A minister, accountant, lumberjack, husband, father of two and foster father of three, Dustin lives in the middle of the Angelina National Forest and considers himself a Renaissance man. "I'm a nice guy," he says, "but I can be too outspoken and honest—if I don't like you, I won't hide it."
Gary Quesenberry
Age: 40
Hometown: Cleveland, OH
Occupation: Homeland Security Agent
Aside from his wife and three kids, Gary Quesenberry is proudest of becoming a Triple Nickel coin holder. The Triple Nickel Course of Fire is designed to measure a shooter's ability to perform on demand by engaging five targets from five yards in five seconds; fewer than 70 people in the world can boast that they've bested it. Now a Homeland Security agent, Gary served in the U.S. Army during Desert Storm and was part of the Special Ops Response Team for the Bureau of Prisons. He loves competition so much that he and his pals use target shoots to settle disputes. All that practice may come in handy when he faces one of his closest friends and oldest rivals, Jarrett Grimes, on Top Shot.
Jake Zweig
Age: 39
Hometown: Barrington, NH
Occupation: College Football Coach
"If you line up 60 SEALs in a shooting competition," says Jake Zweig, "I will be in the top two every single time." This outspoken football coach for the University of New Hampshire is a former Navy SEAL officer who uses rifles and pistols for hunting and recreation almost weekly. With the achievement of taking a college team to the top of its division under his belt, Jake claims that Top Shot needs someone like him. "I out-work people, out-hustle people and figure out a competitive edge to win," he says. "It basically comes down to the fact that I have the innate ability to do the impossible consistently."
Jarrett Grimes
Age: 42
Hometown: Atlanta, GA
Occupation: Homeland Security Agent
"Winning isn't everything," says Jarrett Grimes. "Winning is the only thing." An intense presence on the gun range, Jarrett taught tactical shooting to former Top Shot contestants J.J. Racaza and Jermaine Finks. He served in the U.S. Air Force for 20 years, retiring as a combat arms instructor. Jarrett also spent 14 years as a police/SWAT officer and has been working in the homeland security field for the last 10 years. The winner of multiple IDPA matches, Jarrett—like his good friend and fellow Homeland Security agent Gary Quesenberry—is one of fewer than 70 Triple Nickel coin holders in the world. In addition to targets, Jarrett is currently taking aim at a master's degree in criminal justice.
Mark Schneider
Age: 45
Hometown: Tierra Verde, FL
Occupation: Customer Service Professional
A natural athlete who competed as a cyclist at the national level before winning several USPSA division matches, Mark Schneider attributes his confidence in competition to his "laser-beam focus." After becoming a qualified expert in several weapons systems in the U.S. Army, this Florida marksman has trained with several military and professional shooters. This year, he plans to test his skills at the USPSA Nationals. "You guys need me because I'm an all-rounder," says Mark, whose areas of expertise include compound bows and muzzleloaders.
Michael Marelli
Age: 28
Hometown: Long Island, NY
Occupation: Court Officer
This self-proclaimed class clown from Long Island was once a highly ranked junior marksman. After receiving initial instruction from his grandfather, a national shotgun champion, Michael Marelli went on to win several state titles in trap and skeet. He also won two bronze medals in the Junior World Skeet Championships. After completing his police academy training, Michael became a New York State court officer. Though proud of his former glory, he sees Top Shot as his chance to prove that his days as a shooting champ aren't over. "I've seen seasons 1 and 2 of Top Shot, and as I'm watching I'm thinking, 'I can do that,'" he says. "I'm better than these people."
Mike Hughes
Age: 37
Hometown: Maple Falls, WA
Occupation: President, Firearms Training Equipment Company
Mike Hughes says that playing college football taught him more than attending engineering and law school. "Teamwork, preparation, execution," he explains. Nowadays, Mike draws on these ethics and his competitive spirit at the range. He's been participating in USPSA matches for the last 10 years and recently earned a seventh-place title at the Nationals. In 2009, after a decade of practicing law, Mike founded his own firearms training company. He's even invented his own training pistol, which he calls the SIRT. When he isn't pistol training or running his company, Mike can be found lifting weights, sprinting, hiking or spending time with his family. He describes himself as disciplined but says he doesn't take himself too seriously. "I'm very competitive—I will win or die trying," he declares. "But I am always a good sport."
Paul Marinaccio
Age: 31
Hometown: Fairfield, NJ
Occupation: Detective
"I'm never the best person in the room, but I'm always the most competitive," says Paul Marinaccio, his accent betraying his Jersey roots. "I'm the guy who doesn't give up. Ever." This seasoned marksman learned to shoot from a childhood friend's father and has since gained experience with nearly every gun used in World War I and World War II. A former high school wrestler who now does mixed martial arts and extreme sports, Paul rose through the ranks of his police department to become a detective. "I love how marksmanship training is so closely related to martial arts training," he says. Boisterous, determined and a relentless competitor, Paul is married and the proud father of a 5-month-old baby boy.
Phil Morden
Age: 25
Hometown: Milford, MI
Occupation: Video Producer
If you're tempted to write Phil Morden off as just some young guy from the country, be warned that this self-taught shooter is here to compete. What started out as a hobby for a 7-year-old boy has evolved into a true passion, inspiring Phil to build, modify and shoot firearms in his spare time. He considers himself an expert shot with assault rifles, semiautomatic rifles and shotguns. Hoping to pursue a career in the military, Phil trains and exercises five days a week. "Shooting has nothing to do with your credentials," he says. "If you pick up a gun and you're good at it, it can take you anywhere. And I'll be proof of that."
Sara Ahrens
Age: 37
Hometown: Roscoe, IL
Occupation: Police Sergeant
Sara Ahrens doesn't feel like she has anything to prove: She's already spent 15 years displaying her skills. The first woman in her police department to even test for the SWAT team, she not only got accepted but also became its supervisor. For the better part of two decades, Sara has shot with the U.S. Army and as a cop in Rockford, Illinois. Her husband Mike is also an officer, and the couple joke that they compete for their children's admiration. "I would be lying to you if I didn't say I want to be my kids' hero," says Sara. "Winning on Top Shot could get me there."