A Victory for Self Defense in Wise, VA
Dave's Clever Use Of The Freedom Of Information Act (Foia) To Get Local Government To Disclose All Locations Of Their "No Guns" Signs!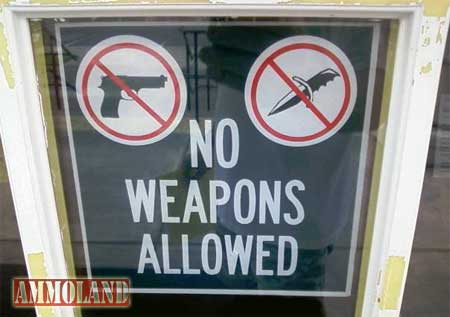 Covington VA –-(Ammoland.com)- In late July, EM Dave Hicks heard that the Town of Wise, Virginia, had a "No Weapons" decal on the the main door of their Administrative Building.
He documented that report with this picture above.
On August 3, he sent an email formally requesting copies of any records related to any ban of firearms on any Town of Wise property that were in addition to those restrictions expressly authorized by Commonwealth statute.
He cited Virginia Freedom of Information Act (§ 2.2 -3700 et seq.). He also, referred to Virginia Code § 15.2-915 (prohibiting localities from adopting or enforcing such bans).
The decal banning weapons at the Wise Municipal Building was removed by the Chief of Police on Thursday, August 4, 2011 – as they could not find any local ordnance creating such a ban.
However, in the FOIA response the Town acknowledged that they had banned weapons in two additional properties – the Bear Creek Watershed and the Big Glades Amphitheatre. These bans had been enacted by the Wise Town Council.
Dave followed up with the Town until the Town Council adopted amendments to the document eliminating local regulation on the carrying, storage, or transporting of firearms, ammunition, or components thereof in the Big Glades Amphitheatre and in the Bear Creek Watershed.
As far as Dave has determined, the Amphitheatre, which was under construction at the time, had never been actually posted on site.
On September 19, 2011, the Town confirmed that the weapons prohibitions at the Bear Creek Watershed (which had been posted at that site — both by a sign and through display of the regulations themselves) had been removed and/or revised.
About:
Virginia Citizens Defense League, Inc. (VCDL). VCDL is an all-volunteer, non-partisan grassroots organization dedicated to defending the human rights of all Virginians. The Right to Keep and Bear Arms is a fundamental human right. Visit: www.vcdl.org