Horus Kestrel – Less Weight, Real-Time Ballistics Solutions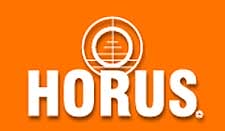 San Bruno, CA –-(Ammoland.com)- Tired of lugging around several pounds of extra equipment just to acquire and maintain accurate ballistics data out in the field? To get real-time ballistics solutions, shooters have had to hassle with a PDA, a weather tracker, and accessories.
Not to mention having to remember to recharge all the toys the night before. Well, Horus and Kestrel teamed up for a solution.
Enter the HorusKestrel 4500NVH. We have integrated our state of the art ATrag ballistic software with the tried and true, Kestrel 4500 Pocket Weather tracker. The result is the 4500NVH, a light weight, ruggedized total shooting station providing the user with turn-key solutions for any shooting scenario.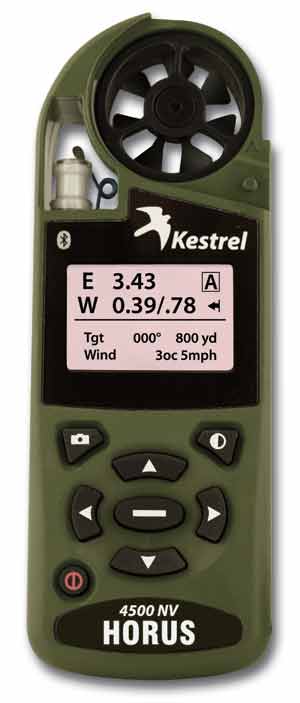 The Kestrel 4500, one of the most comprehensive weather meters currently utilized by every industry imaginable, can measure EVERY environmental condition in the field. Combined with the Horus ATrag software, the user can quickly and efficiently deliver precision fire in seconds under the most adverse situations. With the HorusKestrel, the amount of essential equipment along with that unwanted weight can be reduced. Less weight, fewer batteries, and a more ergonomic design leaves the user feeling unecumbered.
The HorusKestrel fits comfortably in the palm of your hand, and while environmental data is being collected, you can plug in your data to the 4500NVH, and immediately integrate weather with ballistic requirements, providing you an instant solution! The HorusKestrel total station weighs just 4 ounces, and is powered by AAA batteries, meaning that you don't have to look for an electrical outlet on the side of some mountain to recharge your kit.
More importantly, you no longer need to manually retrieve data from a weather tracker and type it into a PDA. That chore now happens automatically within the HorusKestrel minimizing data-entry mistakes. You can focus your attention where it should be; down range on your target!
A multitude of essential features are packed into this tough little unit. Designed to meet IP67 and MIL-STD-810G requirements, the 4500NVH is extremely rugged. The case is slip resistant, waterproof, and incorporates an optical filter to reduce overall brightness which preserves night vision, giving you military-grade low light shooting capabilities and durability for a fraction of the cost. The 4500NVH high-level wind and digital-compass precisely measure environmental conditions, using exterior temperature, humidity and pressure sensors. With its "snapshot" setting of target bearing and wind direction, you can instantly recalculate on the fly using "real-time" data. This means accurate engagements on the target every time!
Horus and Kestrel use the concept that "simple is better". With that in mind, the 8 button control panel reduces the need for a larger, bulkier unit. Both Horus and Kestrel have exceeded the industry's expectations integrating command features making this one of the most efficient units on the market. Saving Data of previous engagements has never been easier. And without much sweat, you can create up to five targets customized for location, distance, direction, declination and wind values.
Unlike most other ballistics software, ATrag takes into account gravity, bullet spin and coreolis effect. These subtle factors heavily impact where your bullet strikes in relation to your intended target for long-range shooting. It's one of the main reasons ATrag has been repeatedly chosen by several Special Operations units serving our warfighters throughout the globe in hostile environments.
Feature Highlights
• Powered by AAA batteries
• Simple 8 button control panel
• Blue tooth capable
• Customizable data storage -50 gun/ammo combinations
• "Snap shot" automated data population
• Time and date
• Easy- to-read Night Vision backlit display
• Data Logger (automatic and manual – weather only)
• Wind Minimum, Maximum and Average values
• Multi-Function 3-line display
• Humidity sensor with in-field recalibration capabilities
• Exterior temperature, humidity, and pressure sensors for fast and accurate readings
• Customize screens to display user-selected measurements
• Flip-top impeller cover allows use of other functions while protecting the impeller
• Upload to a computer (with optional interface)
• Made in the USA
Conclusion:
The HorusKestrel 4500NVH combines high end technology in a light weight package, giving the shooter and edge when "second chances" are very rare! Every advantage must be exploited when your life is on the line. The Horus/Kestrel – first time, every time.
About:
Horus brings cutting-edge technology to long-range shooting to help you shoot farther with ultimate accuracy. Horus reticles, scopes, ballistics software and accessories offer a simpler solution for making fast, precise, bulls-eye hits consistently. Our easy-to-use reticle design and targeting software deliver dramatic improvements no matter what your skill level. Visit: www.horusvision.com