JPFO's Executive Director Charles Heller on Armed American Radio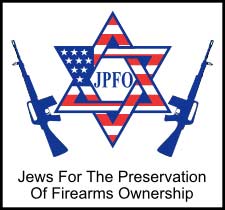 Washington, DC –-(Ammoland.com)- Charles talks 2A matters with Mark Walters of Armed American Radio – https://armedamericanradio.com , while returning on Monday Sept 26th from the weekend Chicago Gun Rights Policy Conference.
One particular item discussed was concerning Colin Goddard – the "Brady Poster Boy" we featured in a recent alert and handbill – https://jpfo.org/alerts2011/alert20110914.htm .
Despite having survived being shot four times, his response when asked about how someone armed could have greatly reduced the carnage, he said "Guns aren't the answer"!
For a limited period this 19 minute radio broadcast sound file can be downloaded or played on the JPFO homepage – https://jpfo.org in the right column.
It is also archived on the Talkin' to America page – https://jpfo.org/filegen-n-z/talkamerica.htm .
About:
Jews For The Preservation Of Firearms Ownership Mission is to destroy "gun control" and to encourage Americans to understand and defend all of the Bill of Rights for everyone. Those are the twin goals of Wisconsin-based Jews for the Preservation of Firearms Ownership (JPFO). Founded by Jews and initially aimed at educating the Jewish community about the historical evils that Jews have suffered when they have been disarmed, JPFO has always welcomed persons of all religious beliefs who share a common goal of opposing and reversing victim disarmament policies while advancing liberty for all.
JPFO is a non-profit tax-exempt educational civil rights organization, not a lobby. JPFO's products and programs reach out to as many segments of the American people as possible, using bold tactics without compromise on fundamental principles. Visit www.JPFO.org – Copyright JPFO 2011