The Innovator of the First Major Breakthrough in Firearm Operating Systems in More Than 120 Years Sets its Sights on the Social Media World.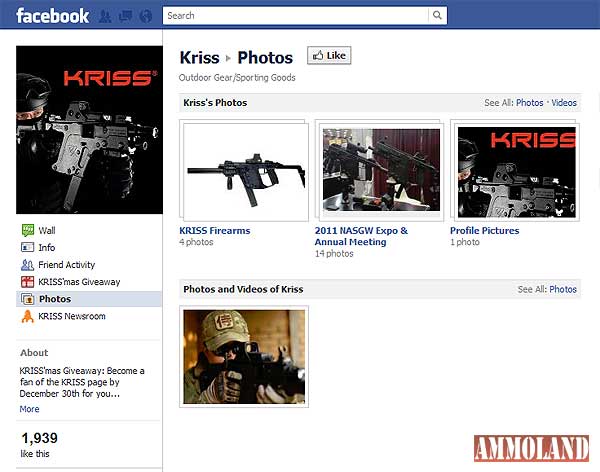 VIRGINIA BEACH, VA –-(Ammoland.com)- KRISS Arms, the Swiss global leader in firearms innovation, has today announced the launch of its official social media presence through Facebook and Twitter.
The goal of both accounts is to create a place for fans and followers to interact directly with the company and other enthusiasts, where they can discuss and review KRISS products and find out about upcoming events.
"We are very excited about launching our social media presence. KRISS is committed to growing a large family of firearm enthusiasts, both in the civilian and military / law enforcement markets, who will use our Facebook page and Twitter account to communicate with us and with each other," commented Christophe Guignard, Vice President of Sales & Marketing of KRISS Arms.
KRISS is running a special promotion for new Facebook fans throughout the month of December. Every new "like" the KRISS Facebook page receives will automatically be entered into the "KRISS'mas Giveaway." Prizes include: 1 KRISS branded tritium watch, 25 KRISS branded shooting glasses, 50 KRISS T-Shirts and Hats. Winners will be selected and announced on December 30th, 2012. www.facebook.com/KRISSArms
For more information on KRISS® Arms, visit www.kriss-arms.com.
"Like" us on Facebook: www.facebook.com/KRISSArms
Follow us on Twitter: www.twitter.com/KRISSArms
About KRISS Arms:
KRISS® Arms, an innovative Swiss-based group, delivers proprietary technologies to the firearms industry enabling more efficient solutions, corresponding to the 21st century requirements for the global law enforcement, military and civilian markets. KRISS is headquartered in Switzerland, with production and operations in Switzerland, as well as in Virginia Beach, Virginia, USA.