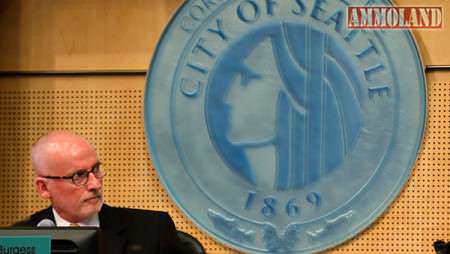 BELLEVUE, WA – -(Ammoland.com)- Seattle's recent spike in violence and murder has more to do with gangs and the tolerance of a "thug culture" than it does with firearms ownership, the Citizens Committee for the Right to Keep and Bear Arms said today, in response to a remark from a police official.
Seattle Deputy Police Chief Nick Metz is quoted in a newspaper asserting, "A person who has a gun is more likely to use a gun."
But CCRKBA Chairman Alan Gottlieb retorted, "With all due respect, Chief Metz needs to say that to the more than 365,000 law-abiding gun owners who now possess active concealed pistol licenses and haven't fired a shot in Seattle or anywhere else, except in self-defense. He needs to make that assertion to the estimated one million gun owners in Washington State who do not deserve being lumped in with a bunch of criminals who cannot legally own or carry firearms."
Seattle has had 16 homicides so far this year, about four times the number of killings at the same time last year.
"It is easier to blame guns than to confront gangs and a thug culture that glorifies violence and disobeys existing gun laws," Gottlieb added. "Suspects in two recent high-profile murders were both 20 years old, and by law, they could not legally carry the handguns they used, and Chief Metz knows it.

"Law-abiding gun owners are not going to take the rap for Seattle's gang violence," Gottlieb stated, "nor are we going to stand silently while public officials blame inanimate objects for the cruel, vicious deeds committed by people who ought to be behind bars. Rank-and-file Seattle police officers are dedicated to protecting citizens and their neighborhoods, and they know who the real trouble makers are.

"CCRKBA has always been willing to sit down and have rational discussions about how to address violent crime," he concluded. "We would be delighted to work toward solutions that do not blame, or penalize, law-abiding citizens or seek to erode their firearm civil rights. The fact that our telephones have not been ringing off the hook with invitations of participation suggests that Seattle politicians are more interested in exploiting crime than reducing it."
---
About Citizens Committee for the Right to Keep and Bear Arms
With more than 650,000 members and supporters nationwide, the Citizens Committee for the Right to Keep and Bear Arms is one of the nation's premier gun rights organizations. As a non-profit organization, the Citizens Committee is dedicated to preserving firearms freedoms through active lobbying of elected officials and facilitating grass-roots organization of gun rights activists in local communities throughout the United States. The Citizens Committee can be reached by phone at (425) 454-4911, on the Internet at www.ccrkba.org.